1.26 million Gautengers approve of violence against gays & lesbians
Levels of homophobia are on the rise in Gauteng, with a shocking spike in the number of people who support anti-gay violence and discrimination.
According to the latest Gauteng City-Region Observatory Quality of Life Survey, an astonishing 14% of the province's citizens say it is acceptable to be violent to gay and lesbian people.
This represents an increase of 1% since the last survey in 2013 and equates to around 1.26 million people.
The 2015 results, released on Tuesday, also found that only 56% agreed that gay and lesbian people deserve equal rights with all South Africans. Disturbingly, this is a major fall from 2013 when 71% agreed with the statement.
The results appear to indicate a complete failure of government and civil society efforts to reduce homophobia and change attitudes in South Africa's richest and most populous province.
Senior researcher Dr Sally Peberdy told Mambaonline that while those who said that violence against gay people was acceptable "won't necessarily go out and be violent, it does mean that there is an environment in which it is increasingly possible."
She was surprised as to the extent to which violence against gay people was seen as much more acceptable compared to xenophobic violence against foreigners (3% agreed) or for a man to hit or beat his partner (2% agreed).
"If you look at a comparison between the other two it really is shocking and disturbing," Peberdy said.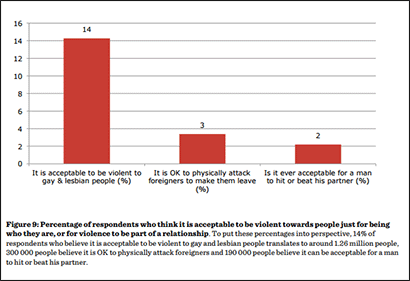 She agreed that much more needs to be done to improve levels of acceptance towards gays and lesbians: "There doesn't seem to have been any change in people's attitudes and they have in fact worsened, so it appears that campaigns don't seem to be working."
South Africa, including Gauteng, continues to face incidents of violent hate crimes against LGBT people. In March, Lucia Naido, a 19-year-old lesbian woman, was stabbed to death on the night of her birthday on Johannesburg's East Rand.
"If government is serious about issues of social cohesion, then they really must address homophobia," said Peberdy. "You can't have 14 percent of people thinking it's okay to be violent against people for who they are."
Conducted every two years, the Gauteng Quality of Life survey interviewed 30 000 residents across the province. As the survey is the only one of its kind in South Africa, it is impossible to know how Gauteng attitudes compare to those in other provinces.