Here's Industry – Johannesburg's newest queer lounge and bar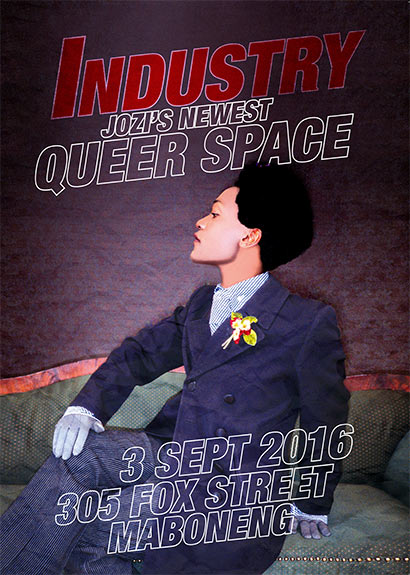 As Gauteng enters its annual Pride season, a new queer bar, lounge and nightclub venue is opening in Johannesburg's hip and happening Maboneng Precinct on Saturday 3 September.
According to its creators, Industry aims to provide "a trendy recreational space where an upwardly mobile lesbian, gay, bisexual, transgendered, queer and intersex community (LGBTQI), aged between 25 – 55 years, can meet, unwind, and relax with friends, acquaintances or colleagues".
It will serve as a pre-events drinks option or as a final destination for patrons. The venue will also cater to private parties and corporate functions.
The central location of the Maboneng Precinct, the demographics of the area and its surrounds, and the beefed up security are major advantages to the initiative, the owners say.
Industry is a much needed entertainment space in the city, which despite arguably boasting the continent's largest openly LGBTQI population, has a relatively limited number of venues serving the community.
The owners say that not only is it queer owned, it also draws on inspiration for its design and décor on recognisable cutting edge queer cultural references, "which validate the identity of its clients".
The walls feature stills from documentary filmmaker Jenni Livingstone's Paris Is Burning as well as the photographic work of Nigerian-born Rotimi Fani-Kayode, and British artists Isaac Julien and Derek Jarmen, among others.
"Above all the place is really a space to have fun after a long week – something all of us need after a hard slog in Johannesburg," the owners add.
Industry opens on Saturday 3 September.
Address: 305 Fox Street, Maboneng Precinct
Times: Thursday, Friday and Saturdays from 9 p.m. until 2 a.m.
Opening night specials: FREE champagne, FREE shooters and live entertainment
More info: industrylounge305@gmail.com