Motoring: Sunglasses and sneakers – Mahindra's KUV100 K8 D75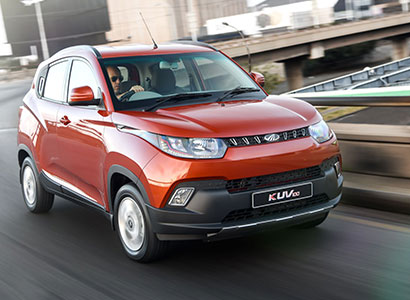 No, this has not suddenly become a fashion column – I'm probably the last person you want to be dishing out style sense… because I have none.
However, you have to admit that, when looking at the Mahindra KUV100, those wrap-around headlights and thin chrome-encrusted grille look like a cool pair of shades.
And, to my mind, it also looks like a little high-top sneaker from the side… yeah, told you I had no fashion sense… but the KUV100 does have some other interesting design cues. Like the aggressively sculpted bonnet, squared-off wheel arches, shapely cut lines over the rear haunches and neatly integrated rear-door handles.
Other than the rather puny 14-inch wheels, Mahindra has put a bit of effort into creating something quite funky and unique.
Indeed, the target market for the KUV100 is buyers looking for a compact city run about that combines the stance and versatility of an SUV with the maneuverability and agility of a compact hatch. Clearly, it fills the brief – being technically the smallest SUV on the market (Mahindra claims it'll handle the odd dirt road excursion). So, what's it like on the city streets?
Firstly, don't be fooled by the compact dimensions – there's way more interior passenger space than you'd think (though the boot is small).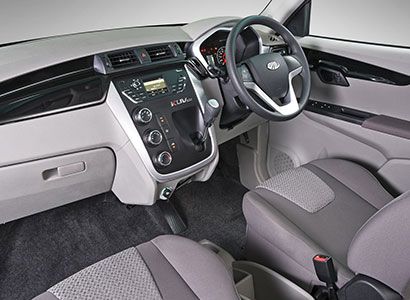 The neat dash and hangdown section place all major controls within easy reach: that dash-mounted gearstick, for example, opens up a stack of stowage space between the seats. I think the overall design, with its piano-black accents, looks good too (despite the chintzy "KUV100" badge…).
The interior is made of mostly good-quality plastics and is solidly constructed – Mahindra has clearly put effort into changing the "budgety" perceptions of Indian-produced vehicles, though these do still show here and there.
Like on the road, for example. Up front is a 1,2-litre, three-cylinder turbodiesel engine that produces 57 kW and 190 Nm, driving the front wheels through a five-speed manual gearbox. It's a characterful little unit (if a bit noisy) that, for its size, has a strong power delivery well suited to the city. The K8 is fitted with auto start/stop and a power/eco switch – Mahindra claims it'll consume only 4,4 l/100 km on the combined cycle.
However, the turbodiesel power causes some harsh torque-steer under acceleration. The suspension could definitely do with fine-tuning to resolve that… and it's quite soft which also means the KUV100 floats and wallows like it's on water.
But that's just about the only aspect where its budget roots are visible. Mahindra has fitted the K8 with a host of mod-cons like anti-lock brakes with electronic brake force distribution (EBD) and corner braking control (CBC), as well as dual front airbags.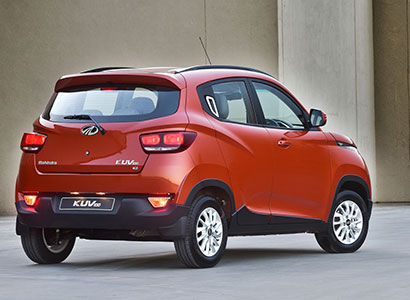 LED daytime running lights and door-mounted puddle lamps add a bit of class, while a decent Bluetooth infotainment system (controllable via the Mahindra BlueSense app) and mood lighting add a sense of occasion.
Undoubtedly, the KUV100 is a good effort from Mahindra. The price, of R197 995, includes a three-year/100 000 km warranty a three-year/50 000 km service plan.
It might be a bit high for buyers who would also have more mainstream choices like the Renault Sandero Stepway (more hatch than SUV) in their sights.
But Mahindra won't be disappointed with sales thus far, the KUV100 being its top-selling model since launch in June… Every brand needs a fashion icon.