Images of Putin in drag will now get you jailed in Russia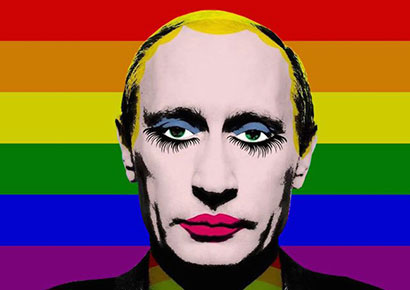 Fragile masculinity much? The clampdown on free speech in Russia has again been highlighted by the country's ridiculous new ban on pictures of its president in drag.
Activists have in recent years used a host of images in which Vladimir Putin has been photoshopped to appear to be wearing makeup to protest restrictive Russian anti-gay policies.
Among his other authoritarian moves, in 2013 Putin signed a law prohibiting the "promotion" of "non-traditional" sexual relationships that might be seen by minors. The so-called "gay propaganda" law effectively bars any expression or discussion of homosexuality in public, on television, in print or on the internet.
It's now been reported that a picture of Putin in drag has been included in the Russian justice ministry's list of banned "extremist" materials. Sharing it can land offenders in jail.
The image has been deeded illegal because it implies "the supposed nonstandard sexual orientation of the president of the Russian Federation". It is one of over 4,000 items that have been outlawed to-date.
The restriction comes after a court in the city of Tver banned a series of pictures posted on the Russian social networking site Vkontakte by a man named A. V. Tsvetkov. One of the images in question was that of Putin in drag.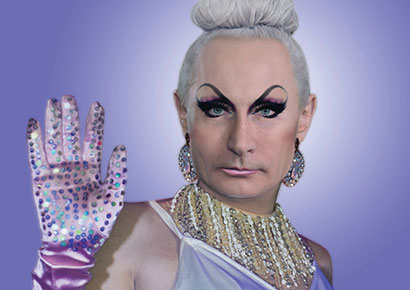 It's unclear which of the many depictions of the president in heavy makeup that can been found online has actually been banned.
Kremlin Press Secretary Dmitry Peskov told the Tass state press agency that Putin himself was likely to brush off "these vulgarities".
He admitted that he hadn't seen the image and stated that, "Our legislation has, so to say, a certain code defending a citizen's honour and dignity, including those of the president."
Earlier this week, it was claimed that around a hundred gay men have been rounded up, arrested and even killed by the authorities in Chechnya, a semi-autonomous Russian republic.