Russian TV channel offers free plane tickets to get rid of gay people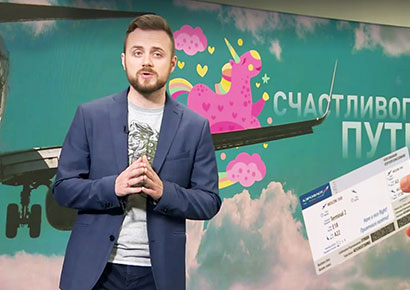 A homophobic television channel in Russia has cynically offered to buy one-way plane tickets for gay people to get out of the country.
The conservative Tsargrad TV channel (known as Constantinople TV in English) posted the offer on Facebook and on Russian social media site VK, via a video featuring host Andrei Afanasyev.
Accompanied by footage of Pride parades and a graphic of a pink unicorn, he says the proposal is in response to reports that the "liberal" state of California will help "Russian perverts" gain access to green cards to live in the US.
"We are ready to pay for a one-way ticket to anyone who plans to emigrate in complete earnest, and can provide a medical certificate proving that they are sodomites or have other forms of perversion."
In the clip, titled "Godspeed Perverts", Afanasyev adds: "This is not a joke. We really want you to move there, where you can openly submit to your sins."
He further insists that the aim of the offer is "to do good".
The channel urged its followers to share the video, stating: "Attention! Maximum repost welcome!"
It's not clear how serious the offer is, but Tsargrad TV is known for its bigoted views. It is against same-sex marriage and commonly refers to gay people as "sodomites" in its reporting.
The homophobic television channel was launched in 2015 to promote Christian Orthodox values and claims to reach 42 million viewers.
The LGBT community faces ongoing discrimination, restrictions and stigma in Russia. Public demonstrations and Pride events in support of LGBT equality are illegal under the country's controversial law banning the promotion of 'non-traditional' sexual relations.
Starting in February, around 100 men "accused" of being gay were rounded up, detained in secret facilities, tortured and in some cases killed in the semi-autonomous Russian republic of Chechnya. The Russian federal government has promised to investigate the incidents.