Mamba Q&A: The man behind Manila Von Teez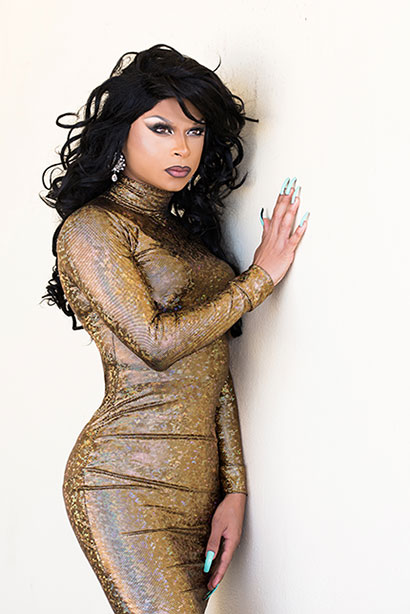 Since coming second in last year's SA's Got Talent, the spectacular Manila Von Teez, performed by Veon Wentzel, has become arguably South Africa's most high profile drag star.
She's one of a handful of local drag acts to break into the mainstream by being welcomed into the living rooms of many South Africans and winning massive public support. Her confidence, style and energetic dance routines have made her stand out from many of her competitors.
Last year, Von Teez also made a splash with her fierce appearance in the SAMA nominated music video for The Kiffness track You Say You Love Me, which honoured SA's LGBTI community and the victims of the Orlando massacre.
Before these successes, Von Teez won pageant titles such as Miss Black Pride, Miss Cape Town Pride, Miss Cape Peninsula and Miss Pink Loerie. She performs regularity at the Zer021 club and at other events in the Mother City.
Mambaonline spoke to the openly gay Wentzel, the 27-year-old fashion designer who created Manila Von Teez, about his challenging but determined journey to the drag spotlight.
Where did you grow up and what kind of environment was it, especially for LGBTQ people?
I grew up in The Range in Elsies River in Cape Town. It was not a friendly LGBT environment. I came out at the age of 21 via a letter I wrote to my mother. The reaction I was hoping for was not a good one and so I moved out.
And how did you first get into drag? What inspired you?
It was a friend's 21st birthday party and the theme was a crossover one. I enjoyed using my clothing design talent, and I guess my artistic side, in making my look (well at least, what I thought was) an amazing one.
Did you have any drag artist role models at the time?
Yes, when I started to drag I was very close with Logan McGregor (Miss Gay Western Cape 2011 and Miss Drag Diva SA 2012) I was also blown away by the lip synching prowess of Angel Lalamore.
Did you have to come out to your family for a second time as a drag artist?
Not actually. I got a call from my mother one day saying she has seen me in the local tabloid as a drag queen. So I was outed by a tabloid!
How is your relationship with you mother now?
It's fantastic! She is my biggest supporter. My mother and sisters and brother are highly supportive. They come to all my shows. It may at first be difficult, but just hang in there…
Tell us about Manila. What kind of person is she? Does she have a history?
Manila is outgoing, club hopping, loud and an over the top character. What kind of history? [Laughs] We all have our little skeletons! She is completely different form me. Veon is an introvert essentially and Manila is the extrovert.
Where did her name come from?
Manila is from Manila Luzon from RuPaul's Drag Race and von Teez is my adaptation of the surname of the [American burlesque] icon Dita von Teese.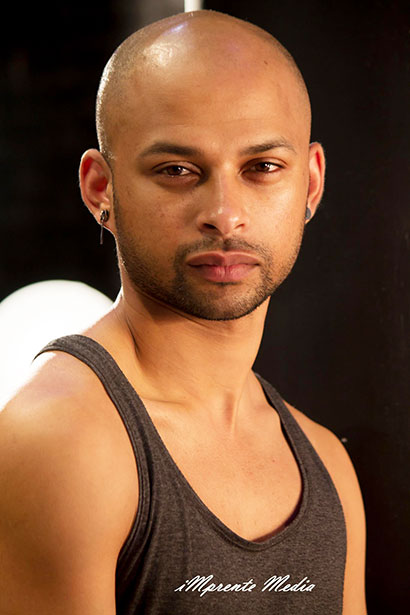 What has doing drag over the years taught you about people?
That we are all different and should all be accepted, flaws and all. You never know who will be your biggest fan and who your biggest hater!
How has the acceptance of drag changed since when you started?
It has changed majorly. No longer is it seen as taboo, but rather as the art form that it is.
Do you see what you do as making a change in the world?
Yes I do. I believe it is helping people to learn acceptance and respect for each other.
Do you think that LGBTQ performers have a responsibility to speak out for our community?
They definitely do. If you look at drag queens especially, we are always sought as the accepted LGBT performer to break the ice at events. We are generally the first up-front and in-your-face experience of an LGBT person that a lot of people experience. So we need to ensure that we "convert" that first timer to being accepting and respecting of us all.
You've said that being a contestant on RuPaul's Drag Race is one of your dreams.
I think, for all drag queens, it is the ultimate showcase. The show has launched all those queens into international stardom and created so many opportunities for the contestants.
Is the drag scene in Cape Town different to that in Jozi?
I think it is, but not far off. In Cape Town we definitely have a stronger pageant and performing scene, so the Cape Town girls are given more public experience. The Jozi girls I do get to see are fierce and should be afforded more opportunities to showcase their talents.
How has your act evolved since you started out?
Gosh, I think my makeup has improved drastically. I "pad" as well, and I have become a more all rounded performer. I was initially known as the Nicki Minaj of Cape Town, and I had to work hard to remove that label and be considered a versatile performer,
What kind of impact did your appearance on SA's Got Talent have on your life and career?  
I think just the whole positive response makes any person grow as an individual. If we were all drowned in positivity on that scale we would just be better people. My career has improved in that I have had a few more "mainstream" gigs which bodes well for the drag community as a whole. It would be so amazing if drag performers were considered every time there is a festival or event, just like every other musician or performer is.
Do you ever get recognised out of drag on the street?
Yes I do! It is so amazing the exposure I have received. Sitting at a restaurant and someone comes up to the table and says, "Excuse me, are you Manila von Teez", is such a feel good moment.
Last year, you were named number seven in The G-Listed's Black LGBTQ Power 100 for 2016 list. How did that make you feel?
Over the moon! My year ended on such a high! To be ranked ahead of so many of my idols and such great people was a real honour and I am so grateful for it!
Do you believe that we have enough people of colour who are LGBTQ role models?
Looking at all the South Africans on the list shows that we are fortunate to have quite a few. At the same time, we can never have enough role models, regardless of colour, so everyone should aspire to inspire.
You create your own costumes, but what else does your clothing label, Haus of Vjorn, design?
Everything from wedding dresses to Matric dance dresses, male and female, and drag clothes. And I've even made mascot costumes!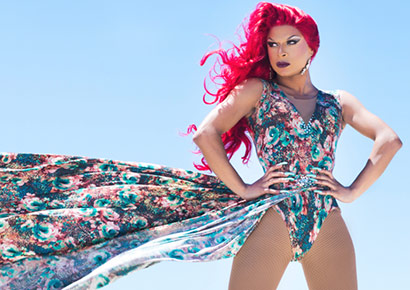 Do you still have time to dedicate to the label or is Manila taking over?
I have to find the balance as the clothing label will be around for the rest of my life. Manila may need to retire at some point as I don't know if my body can take the pounding forever.
What's next for you? Any exciting plans coming up?
My manager and I have started a production company called MVT Productions, and we intend to become a premier LGBT production company. There are some amazing projects we are working on. We are also trying to put together a tour of Gauteng around the Pride times and are looking for a sponsor to assist with this.
What message do you have for a young, perhaps closeted, drag artist out there who has big dreams?
Be yourself, love yourself first and foremost. Surround yourself with positive people who love you, no matter what. Work hard, and follow your dreams.
Manila Von Teez can next be seen in Kat Gilardi's Diva's One Night Only show on Friday 28 July in Cape Town, and in ABFAB Drag, by acclaimed director Basil Appollis at the Artscape in August. Von Teez will also be the headline act for the inaugural University of Free State Pride, from 10 to 12 August.