Report: Nigerian internet celeb Bobrisky arrested after coming out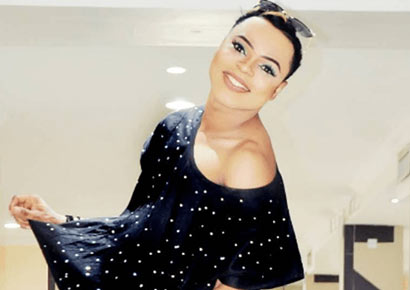 Internet star Bobrisky, known as 'Nigeria's male Barbie', is believed to have been arrested after coming out as LGBTQ.
In a recent Instagram post, the gender non-conforming "internet celebrity and entrepreneur" lashed out at hateful comments made against them on social media.
"All these house boys and girls coming to drop comments on my page are you all stupid?" said an angry Bobrisky (Idris Okuneye).
"Do you think your hate comments can change me? Why are you trying so hard to get my attention?"
Bobrisky, 25, then added: "Yes am gay, I will go to hell fire, thanks. Please what next? I'm tired of the same words, I want to hear something new, cheers!"
Bobrisky has suggested that they are queer in the past, but this may be the first time that they categorically claimed a gay identity.
While the post was soon removed, it appears to have caught the attention of the authorities in Nigeria, where being gay is a crime.
Local media reported that Bobrisky was arrested at their Lekki, Lagos home on Tuesday, apparently due to the "incriminating" post.
Photos were posted of what was said to be Bobrisky in police custody, alongside homophobic and transphobic comments such as: "Just one day in police custody and Bobrisky already looking like a man. See his beard all jumping out."
The arrest was welcomed by homophobes who asked why it took so long. "Bobrisky admitting to be gay openly in a country where it is a crime. What a fool," said one commentator.
The police have yet to confirm the arrest and Bobrisky's whereabouts and well-being are unknown.
Nigeria has some of the most repressive anti-LGBT legislation in the world. A 2014 federal law prohibits same-sex marriages and relationships with a penalty of up to 14 years in prison and stipulates 10 years in jail for public displays of same-sex affection as well as 10 years for membership or support of LGBT groups.
Under older colonial-era legislation, anyone found guilty of engaging in homosexual acts can also be jailed for 14 years.
Just one day in police custody and Bobrisky already looking like a man. See his beard all jumping out. pic.twitter.com/xwtsgr6z47

— Oddlean ⚡ (@OddleOro) November 8, 2017
Finally Bobrisky has been arrested for doing Risky things. ?

Is God not a wonderful God. ? pic.twitter.com/5OIdvQBnOV

— Burnt DODO ? (@kards_official) November 8, 2017
Saw Bobrisky's photos at the police station….It is looking like a guy now…Nigerian police have reset it's gender so fast.

— Uche Daniel (@UcheDandyMUFC) November 8, 2017