Zanele Muholi knighted by France for her groundbreaking queer art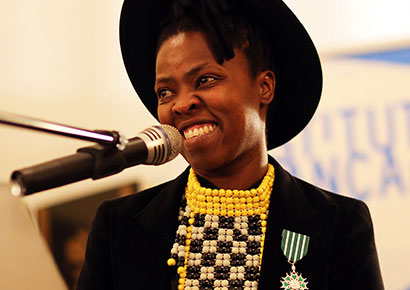 Zanele Muholi, South Africa's most acclaimed queer photographer, has been knighted by France for her groundbreaking work.
On Wednesday, Muholi was honoured with France's top cultural award, the Knight in the Order of Arts and Letters, by French Ambassador Christophe Farnaud.
The event in Pretoria was attended by activist, friends, dignitaries, and Muholi's mentor, photographer David Goldblatt.
The Johannesburg-based visual activist has made a global name for herself by documenting the lives of the LGBTI community – primarily black lesbian and transgender women – for almost two decades.
"Your courage and your vision have inspired many people in South Africa, changing perspectives and changing lives," said Farnaud at the ceremony.
"With your work you have given black lesbian and transgender communities, here and overseas, a new visibility.
"Your efforts to raise the subject of LGBTI rights challenges complacency and prejudice everywhere. You shine a light where there is shadow and your work creates a space where there was none," said Farnaud.
After receiving the award, an emotional Muholi thanked Goldblatt for believing in her and financially supporting her studies when she began her career. "No matter how far I go I cannot erase you from the person that I am. I love you so much," she said.
"There were feminists and activists [when I started out] who said you are making money out of black people… and yes, I am making money now and I'm willing to give back to my community," said Muholi.
She explained that every year she funds the training of young black LGBT photographers, adding: "The money that was invested in me by David goes back to the communities."
Speaking to Mambaonline last year, Muholi said that much of the focus of her work continues to be on making LGBTI people visible.
"Visibility for LGBTI people should be like … food and water! We can't only be visible when it's Pride because we don't live our lives for just one day of the year. We exist 365 days, throughout the whole year. And this visibility needs not even to be negotiated; it needs to be part of the society," she said.
Muholi's work has been shown around the world, in galleries such as the Georges Pompidou Centre, in Paris, and most recently at the Performa Biennial in New York City. In 2016, she was named one of the world's most powerful female African artists in the contemporary art world.
Muholi, who co-founded the Forum for Empowerment of Women (FEW) in 2002, and in 2009 founded Inkanyiso, a forum for queer and visual (activist) media, continues to train and co-facilitate photography workshops for young women in the townships.
From 1 December 2017 until 28 February 2018, her hometown will for the first time host a solo exhibition of her work. The exhibition at the Durban Art Gallery will feature five bodies of work: Faces and Phases, Somnyama Ngonyama, Love and Loss, Mourning and Brave Beauties.
Muholi's Faces and Phases 11 is also on show at Market Theatre Photo Workshop in Johannesburg until 28 February 2018.
Pics by Lerato Dumse / Inkanyiso