Inxeba (The Wound): The Mamba Review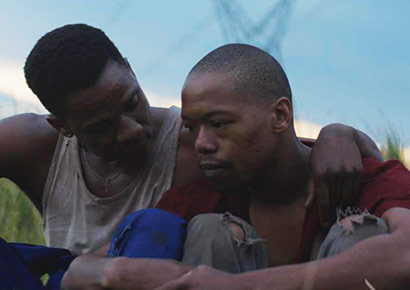 The most talked about South African film of the past year is finally here. More than 12 months after it premiered at the Sundance Film festival and went on to win 19 awards around the world, Inxeba (The Wound) is in local cinemas.
And it's about time. Apart from the controversy and hype, the isiXhosa-language Inxeba is possibly the most important queer film made in South Africa. It's also a damn fine piece of filmmaking.
Xolani (Nakhane Touré) is an isolated factory worker. He takes a break from city life when he's asked to mentor a boy through his initiation, alongside a group of other youths and caretakers. While apparently indifferent to the task, it does afford Xolani the opportunity to meet up with long-time friend Vija (Bongile Mantsai) in the mountains of the Eastern Cape.
The men have been hooking up on-and-off over the years – something that's been kept hidden from the other men, and especially Vija's wife. As the men and boys go about their daily routines, Xolani struggles with the jarring openness of the younger generation and how to keep both his identity and his feelings for Vija in check.
Ultimately, he must make the decision to either break out of society's constraints or keep upholding them at any cost.
Inxeba's firstly a story of tragic forbidden love, but it's also an exploration of masculinity; how it's forced to conform to strict norms of acceptable behavior and expression through traditions and social pressures.
It's one of the few major films to question what it means to be a man and to love another man within the context of South African culture. Inxeba is a story that needs to be told, especially in a country wracked by stigma that forces same-sex love and expression underground. It's a repression that not only destroys lives and families but also fuels the high rate of HIV infection among MSM (men who have sex with men).
Inxeba unfolds in a measured and gentle way, slowly building up tension and a growing sense of unease. John Trengove's direction, assisted by scriptwriters Thando Mgqolozana and Malusi Bengu, is confident and sensitive. The film is beautifully shot, making the best possible use of its rural locations. The performances, across the board, are remarkable, with an almost documentary-style naturalism.
Proudly gay singer and writer Touré has justifiably been widely praised and awarded for his restrained yet intense portrayal of Xolani; his first big screen outing. Touré is a multitalented star on the rise who is set to make a global impact. Mantsai, as Xolani's love is also fantastic; all unstable masculine bluster and aggression while hinting at the depths of his internal despair. He's a man trapped and silenced in a life that does not belong to him.
Does the film go too far in exposing the sacred initiation rituals? As someone outside of the isiXhosa culture I'm not qualified to answer that question. But from my perspective there does not appear to be any overt attempt to sensationalise or disrespect this tradition but rather to use it to frame an important debate.
The film's title is telling. The "wound" refers to the physical damage caused by the initiate's circumcision but perhaps also to the far deeper psychic scars many of us bear; for being different, from being forced to conform. Inxeba is a must-see experience, not only for queer viewers, but for anyone who believes that one of the primary functions of creative expression is to debate and challenge the role of culture and traditions in our lives.
Inxeba (The Wound) is now in selected cinemas across South Africa.