Historic! Theresa May regrets Commonwealth anti-gay laws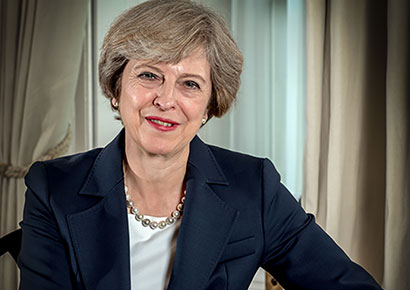 In a landmark speech, Prime Minister Theresa May has admitted that Britain was wrong for exporting anti-LGBT laws to Commonwealth countries.
Speaking at the Commonwealth Heads of Government Meeting (CHOGM) in London on Tuesday, May addressed calls by LGBT activists to apologise for Britain's role in the criminalisation of homosexuality in its former colonies.
"As the United Kingdom's Prime Minister, I deeply regret the fact that such laws were introduced, and the legacy of discrimination, violence and even death that persists today," said May.
Thirty-six out of the 53-member countries of the Commonwealth still criminalise same-sex relations, accounting for around half of the world's nations where homosexuality is illegal.
"Across the world, discriminatory laws made many years ago continue to affect the lives of many people, criminalising same sex relations and failing to protect women and girls," said May in her speech.
"I am all too aware that these laws were often put in place by my own country. They were wrong then and they are wrong now."
She continued: "As a family of nations, we must respect one another's cultures and traditions, but we must do so in a manner consistent with our common value of equality – a value that is clearly stated in the Commonwealth charter.
"Recent years have brought progress. The three nations that have most recently decriminalised same-sex relationships are all Commonwealth members, and since the heads of government last met, the Commonwealth has agreed to accredit its first organisation for lesbian, gay, bisexual and transgender people.
"Yet there remains much to do. Nobody should face discrimination or persecution because of who they are or who they love.
"The UK stands ready to support any Commonwealth member wanting to reform outdated legislation that makes such discrimination possible, because the world has changed," May said.
LGBTI Human Rights campaigner Peter Tatchell thanked the prime minister "for heeding our appeal and expressing deep regret for Britain's imposition of homophobic laws during the colonial era".
He described the statement, "as a positive and welcome move," but said that "it should have been made in front of the Commonwealth leaders who oversee the enforcement of these repressive laws, not at an NGO side event".
Tatchell said the speech nevertheless acknowledges "the wrongful imposition of anti-LGBT legislation by the UK, shows humility and helpfully highlights that current homophobic laws in the Commonwealth are mostly not indigenous national laws.  They were exported by Britain and imposed on colonial peoples in the nineteenth century."
Jamaican LGBT activist Glenroy Murray told Pink News: "[The apology] challenges the idea that anti-sodomy laws are indigenous to Commonwealth territories, particularly those in the Caribbean and Africa. I am hopeful that this apology can shift the conversations we have been having in our various countries and begin to think about how colonialism has driven us to do immeasurable harm to our people and how we can begin to reverse that harm."
Activist Edwin Sesange, from the African Equality Foundation, told Mambaonline that he welcomed May's statement. He also rebuked Bishop Victor Gill of Trinidad for accusing May of "neo-colonialism" and asserting that, "the gay agenda is being forced on us".
Sesange pointed out that, "the struggle for LGBTI equality in the 36 Commonwealth countries where homosexuality is illegal is championed by Commonwealth citizens not Theresa May, as claimed by anti-LGBTI activists. This context shouldn't be lost."
Last week, activists delivered a petition signed by 104,115 people to Commonwealth headquarters in London demanding an end to the criminalisation of homosexuality among member countries.