Orlando Nightclub Massacre remembered with calls for gun control
It's been two years since the single biggest known massacre of LGBTQ people in modern history, in Orlando, Florida.
On June 12, 2016, while patrons were celebrating Latin Night at the Pulse nightclub, 29-year-old Omar Mateen burst into the venue and opened fire on the crowd.
A total of 49 LGBTQ people and their friends were slaughtered in cold blood and more than 50 were injured. After a three-hour standoff with the police, Mateen was shot dead by officers who forced their way into the club.
On Tuesday, the second anniversary of the tragedy was marked across the US with a series of "die-in" protests by the National Die-In campaign, a project led by student gun control activists.
The most prominent event took place in Washington D.C., lasting 12 minutes and 720 seconds. "This number represents the approximate number of people who have died in a mass shooting since the Pulse Nightclub Massacre," said the organisers.
In a rally outside the Orlando City Hall on Monday, massacre survivor Brandon Wolf addressed the crowd. "Two years ago, I was washing my hands in a bathroom sink when I heard an assault rifle fire 45 rounds in one minute," he said.
"I learned those rounds killed 13 of my best friends…But the real crime here is that my story isn't unique anymore: We live in an America where our leaders would rather beg for money from the NRA [National Rifle Association] than do something to protect our children."
The site of the killing is being turned into a museum and memorial by the onePULSE Foundation, established by the club's owner, Barbara Poma. A memorial ceremony was planned to take place at the venue on Tuesday night with Orlando Mayor Buddy Dyer "to honour the 49 angels, the survivors and the first responders."
The Human Rights Campaign (HRC), America's leading LGBTQ rights groups, also spoke out in memory of those murdered and called for stricter gun laws in the US.
"As our nation marks two years since this tragedy, we must never lose sight of the unfulfilled hopes, the families shattered and the love lost in this preventable act of mass murder," said HRC President Chad Griffin.
"The thousands more killed by gun violence since Pulse underscores the glaring failure of our elected officials to take common sense steps to combat the scourge of gun violence that plagues our nation," he added.
"We stand with Orlando and with the survivors, and the families and friends of the 49 siblings, parents, friends and loved ones taken that day. We are Orlando," said HRC in a statement. "And as we mourn, we also recognize that in the face of adversity, our community always rises, together."
The motive for Mateen's attack remains murky. Despite his statement that he was inspired by Islamic religious extremism and pledging allegiance to Isis during the shooting, no direct links to any group has been confirmed. Reports that he was a closeted gay man have also not been verified.
The killer's wife, Noor Salman, was accused of knowing that her husband was planning an attack. In March, she was acquitted of charges of aiding and abetting Mateen as well as obstruction of justice.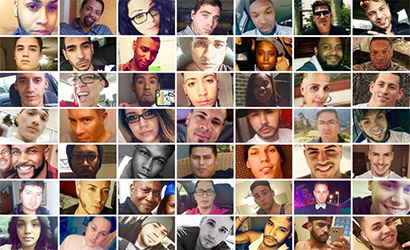 Below are the names of those killed in the massacre:
Stanley Almodovar III, age 23
Amanda Alvear, 25
Oscar A. Aracena-Montero, 26
Rodolfo Ayala-Ayala, 33
Alejandro Barrios Martinez, 21
Martin Benitez Torres, 33
Antonio D. Brown, 30
Darryl R. Burt II, 29
Jonathan A. Camuy Vega, 24
Angel L. Candelario-Padro, 28
Simon A. Carrillo Fernandez, 31
Juan Chevez-Martinez, 25
Luis D. Conde, 39
Cory J. Connell, 21
Tevin E. Crosby, 25
Franky J. Dejesus Velazquez, 50
Deonka D. Drayton, 32
Mercedez M. Flores, 26
Peter O. Gonzalez-Cruz, 22
Juan R. Guerrero, 22
Paul T. Henry, 41
Frank Hernandez, 27
Miguel A. Honorato, 30
Javier Jorge-Reyes, 40
Jason B. Josaphat, 19
Eddie J. Justice, 30
Anthony L. Laureano Disla, 25
Christopher A. Leinonen, 32
Brenda L. Marquez McCool, 49
Jean C. Mendez Perez, 35
Akyra Monet Murray, 18
Kimberly Morris, 37
Jean C. Nieves Rodriguez, 27
Luis O. Ocasio-Capo, 20
Geraldo A. Ortiz-Jimenez, 25
Eric Ivan Ortiz-Rivera, 36
Joel Rayon Paniagua, 32
Enrique L. Rios Jr., 25
Juan P. Rivera Velazquez, 37
Yilmary Rodriguez Solivan, 24
Christopher J. Sanfeliz, 24
Xavier Emmanuel Serrano Rosado, 35
Gilberto Ramon Silva Menendez, 25
Edward Sotomayor Jr., 34
Shane E. Tomlinson, 33
Leroy Valentin Fernandez, 25
Luis S. Vielma, 22
Luis Daniel Wilson-Leon, 37
Jerald A. Wright, 31
#NationalDieInDay with @FrankNeverAgain and @jaysondagher at the Capitol. #RememberThe49 #NeverAgain @NationalDieIn ?? pic.twitter.com/icxgAjaSXp

— Karl Catarata (@KarlCatarata) June 12, 2018
"Our generation will take on the gun lobby. Our generation is the generation of change." #VoteThemOut #StandUpFightBack #NationalDieInDay pic.twitter.com/7pJO7QXGZu

— Generation Progress (@genprogress) June 12, 2018