Finding new affirming LGBTIQ+ words in indigenous languages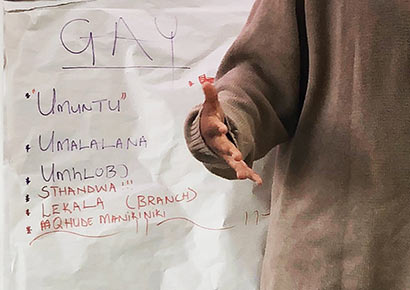 Words have immense power. Every day, the terminology we use defines how we view the world and influences our behaviour in it.
That's problematic when the terms that refer to gender identities and sexual orientations are so often derogatory and harmful. They not only reflect our society but also perpetuate the cycle of bias and prejudice.
Today, the labels we use to name LGBTIQ+ communities in South Africa – such as gay or transgender – were mainly generated in the West. The few words found in traditionally South African languages, such as isitabane or imoffie, are often seen as insulting and hurtful.
However, a campaign called Find New Words is seeking to change that by trying to create new LGBTIQ+ identifying words and phrases in South Africa's indigenous languages that are positive and affirming.
Find New Words is an independent initiative, which came about in 2017, that consults with academics, historians, anthropologists, sociologists and communities throughout South Africa to suggest non-offensive replacement terms. It follows the ethos of: "When language changes, narratives change and behaviors will follow."
The initiative was founded by Nobantu Sibeko and Khany Mpumlwana, who realised the prevalence of derogatory terms used to refer to people who are considered to be "different" by society. "These people cannot hope to live with dignity and respect when they have no choice but to label themselves in this way," Michelle Walford, one of the initiative's organisers, explained in an email to Mambaonline.
Find New Words has created a toolkit that can be used to host a conversation on the topic. It includes how to brainstorm words on a piece of paper and, critically, how to assess and engage with the words brainstormed.
Suggestions include changing verbs into nouns or combining two words together. During one workshop, for example, a group proposed the term "Sekgele sa Mookodi" for queer, which is derived from the words 'umbrella' and 'rainbow'.
The Find New Words project consists of five phases:
Phase 1 involves research to understand the current South African context of the hateful words used.

Phase 2 revolves around workshops with members of the affected communities to identify possible new words.

Phase 3 deals with word refinement in consultation with academics, advocacy groups, writers, religious leaders, traditional leaders and the like to ensure that they are appropriate in terms of history, linguistics, current social norms etc.

Phase 4 takes the shortlist of vetted words to the affected communities, so that they can poll their networks and choose the words they are comfortable with.

Phase 5 involves popularising the new words via a countrywide campaign utilising editorial as well as paid-for exposure on television, radio, print and social media.
The project is currently at phase three, and the team hopes to launch phase five by September this year. Everyone is welcome to participate in the initiative and attend the workshops, Walford said. "We have been working on word of mouth and approaching as many LGBT+ people, groups and organisations as we can." Those who attend the workshops are encouraged to host their own, to help continue the conversation.
So far, the project has received over 150 word submissions, which are yet to be vetted. "We will be releasing them over the next couple of months once they have been vetted by experts to make sure, as much as possible, that there is no possible offensive or misunderstood context attached to them," Walford said.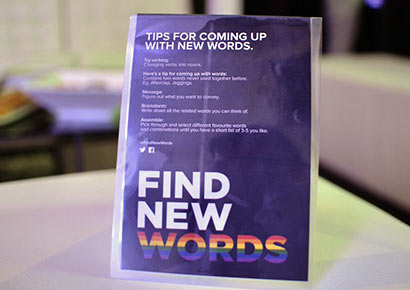 The initiative is funded by the FCB Foundation. Walford said they are planning on going into partnerships with other groups such as Aids Accountability International, the Simon Nkoli Memorial Lecture (SNML) Collective, the Other Foundation and the Thami Dish Foundation.
Find New Words is preparing to host more workshops throughout the country. If you would like to join the conversation of finding new words, you can follow the campaign on Twitter or on Facebook. Alternatively, you can send an email to info@findnewwords.org with your suggestions or to request a copy of the toolkit to hold your own dialogue.
Thank you to the @ThamiFoundation for inviting us to present about #FindNewWords. Let's continue the work by deliberately naming ourselves. pic.twitter.com/Lyv5pgMemB

— Find New Words (@FindNewWords) June 15, 2018
Learning about @FindNewWords and the awesome work they are doing!!! Quite exciting!!! #Feathers10

— M C Motseoile (@Moz_MCM) June 15, 2018
[New Words Alert] Suggestions for #pansexual. #FindNewWords pic.twitter.com/d3ePswITe2

— Find New Words (@FindNewWords) May 12, 2018
[New Words Alert] This team discussed the word #lesbian. What are your words? #FindNewWords pic.twitter.com/CaM2cgO2lt

— Find New Words (@FindNewWords) May 12, 2018