Drag queens to hike up Lion's Head to combat bullying
In a bid to make a difference, two Capetonian drag queens will make their way up Lion's Head in full drag attire, including heels, on Saturday.
Drag sisters Sasha Le Strange and Kimmy LeStrange plan to tackle the Cape Town mountain, with the aim of raising R25 000 for the PWR Project: a registered non-profit organisation that creates awareness around bullying and discrimination, particularly among South African youth.
Their message is that "no mountain can drag them down" and "as insurmountable as your circumstances may seem, know that you are unique and you are able to conquer them."
Every R20 donated by members of the public to the Lion's Head drag hike will go into a draw to win a R500 Hirsch's Homestore gift card. The winner will be announced on Monday 17 September 2018.
Karl Hildebrandt, PWR Project Chairperson, said that the campaign has received "lots of support and interest." He explained that any money donated will go towards further establishing the organisation so that it can embark on projects such as "going out to schools and doing motivational talks; promoting individuality and assisting those that really need help."
Hildebrandt said that as members of the LGBTQ community, the drag artists perfectly embody the ethos of the project by "expressing themselves by being themselves."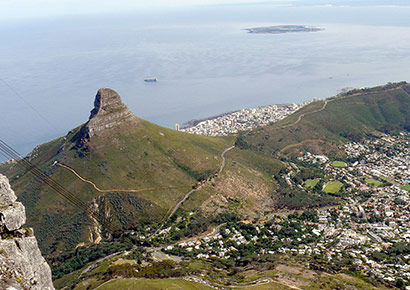 Sasha told Mambaonline that she relates to the project's anti-bullying message in part because of her own personal experiences. "I was bullied from the day I entered school to the day I walked out of school, so I know how it feels – and the effects that it has afterwards. It does't just affect kids, it affects everyone, including in the workplace. It can lead to mental illness and even suicide."
She added: "We want to show people that regardless of what people say, you can achieve something."
Sasha said that preparations for the challenge had mainly been mental, but she had also been resting her feet by wearing comfortable slippers for the past few days. "So I apologise to the public if they've seen me in fluffy slippers," she laughed. "I'm not nervous about the hike, but I am nervous the wind might blow me off the mountain because, you know, drag queens wear big hair."
Sasha will also be representing Miss Drag South Africa as a finalist in the pageant, which will be taking place at the Port Elizabeth Opera House on 29 September.
You are urged to join in and support the momentous sunset drag hike on Saturday 15 September at 16:00. "Come heels or high water, we will make the change we wish to see," said the organisers. For more information and details on donating to the PWR Project, visit the event page here.