"Our time is now!" Global LGBTIQ+ conference underway in Johannesburg
A major three day conference that seeks to find solutions for challenges facing the LGBTIQ+ community is being held in Johannesburg.
The Global LGBTIQ+ Network Conference, an initiative of the Thami Dish Foundation, was launched on Wednesday at Constitution Hill. Dozens of activists and other members of the community have gathered to discuss a range of issues affecting LGBTIQ+ people, from the 10th to the 12th of October.
Sessions will address topics such as religion, spirituality & LGBTIQ+ exclusion; how marginalisation impacts the health of the LGBTIQ+ community; transforming education; rainbow economics; and the politics of Pride.
There will also be discussions around coming out on International Coming Out Day (11 October), on creative activism and about the Find New Words project, which aims to create and reclaim words and terms that affirm LGBTIQ identities in South Africa's languages.
The event was launched on Wednesday by programme director Sade Giliberti, a TV and radio presenter and producer, alongside performances by Kelly Khumalo and the Mzansi Gay Choir. The opening speeches were delivered by Tshepo Ricki Kgositau, a Botswana-born trans rights activist, and Sizakele Nkosi – Malobane, the Gauteng MEC for community safety.
Kgositau, who successfully sued the Botswana government to be legally recognised as a woman, acknowledged the activists, and women in particular, on the continent who have challenged societal and cultural norms.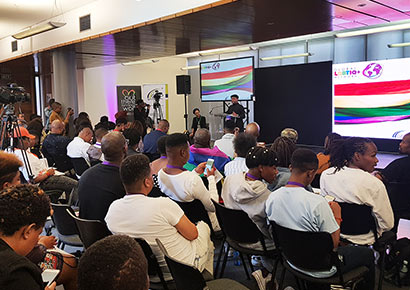 "Any person who is a gender minority, who is different and any other person that masculinity and patriarchy deems as unfit, as unbefitting, as weak, as not strong enough, is still a human being," she said. Kgositau argued that members of the LGBTIQ community need to increase their visibility and work in solidarity to overcome their challenges.
"We are strong, we are resilient and we are powerful. And that was one thing that really drew me to this conference," said Kgositau. "It is important to continuously be able to look at each other and see an image of yourself. Because various places that we live in deny us the ability to look at ourselves and others. And these are the spaces where we come to look at each other and say, you are beautiful."
Kgositau also urged African LGBTIQ people to assert their identity as Africans. "Our governments continue to talk about us as unAfrican, as us being westernised, as us being this influence that has come with the cosmopolitan world we live in.
"But let's research more on ourselves, let us know how we were in precolonial Africa. There have been many of us who existed in precolonial Africa. Do we have these rich narratives? Do we have those elements that we can use to counter such bigotry that we continue to face whenever we are advocating for our rights and wellbeing?" she asked.
Thami Kotlolo, the initiator of the conference, said that the event was an open and safe environment for the community. He pointed out that LGBTIQ people, including those who are are not out, are often at the centre of academic, business and cultural excellence.
"It is without fail that despite the prejudice and the homophobia we face every single day we have still made it happen, we have still made strides in every profession and economic industry because of our drive, our passion,our precision, and our perseverance."
Kotlolo ended with a rallying cry for the community. "It has come to a time when we must support each other's hustle, build a more strong and a more networked [community] that is formidable, to carry on challenging the status quo; proving that we are indeed not weak and that we are not incapable.
"South Africa, Africa and the world; let it be known that we are coming for everything. Our time is now and we are prepared to fight and not let anyone undermine our struggles. We're ready!" said Kotlolo.
Other speakers at the conference over the next few days include Constitutional Court Justice Edwin Cameron, author Siya Khumalo, the Reverend Nokuthula Dhladhla, Phindi Malaza – co-founder of Soweto Pride, as well as activists from the UK, Palestine, India and Australia.