Brand South Africa honours Jozi Cats gay rugby club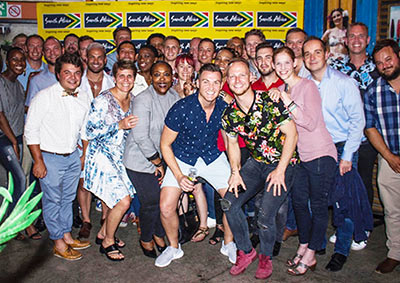 Brand South Africa has recognised Jozi Cats, Africa's first gay and inclusive competitive rugby club. It was also named an ambassador for the Play Your Part initiative aimed at inspiring and encouraging active citizenship in the country.
The announcement was made at an event on 23 October in Johannesburg, where club members were presented with certificates of acknowledgment for the advocacy work they had done in the country, normalising the conversation around being LGBTQ+ and playing sport.
"Play Your Part aims to lift the spirit of our nation by inspiring all South Africans to to adopt a positive attitude and actively be involved in shaping this country," commented Sithembile Ntombela, Brand South Africa's General Manager: Marketing.
"Jozi Cats are one such example by inspiring and encouraging active citizenship through its contribution to creating diverse and inclusive spaces in sport," she said.
Jozi Cats was founded in 2015 and gained international prominence with its 2016 "Rugby That's So Gay!" campaign. Based in Johannesburg, it provides a safe and harassment-free environment for the LGBTQ+ community to play rugby. It has played internationally and around the country and hosted numerous initiatives to promote inclusivity in sport.
Speaking of the acknowledgment, Jozi Cats Chairman, Chris Verrijdt said it was a momentous milestone for the club that had just celebrated its third birthday. "Being recognised by Brand South Africa in this way for the work we are doing across our communities is an incredible and humbling experience," he said.
"At its heart, Jozi Cats is about connecting communities who share our values. If we can contribute actively and positively across our communities, we can be the inspiration and example we didn't necessarily have growing up," Verrijdt added.
Fellow Play Your Part Ambassador, comedian and entrepreneur, Donovan Goliath was also in attendance and spoke to the club about telling its stories authentically to inspire its communities.
"A nation of people who care deeply for one another and the environment in which they live is good for everyone," said Ntombela. "We look forward to working with Jozi Cats in increasing active citizenship, pride and patriotism and congratulate them on this achievement."
For more information about Jozi Cats, visit the website.