Diaan Daniels wows with his body transformation photoshoot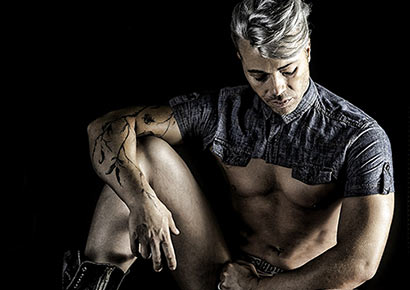 Out South African fashion designer Diaan Daniels is marking his 40th birthday with a sexy photoshoot highlighting his body transformation.
Daniels celebrated his birthday on Wednesday at his favourite Mexican restaurant, before flying out to Brazil for a month-long festive break with husband Shaun Brian Murphy.
The couple have been working out since February this year for four to five times a week with personal trainer and weightlifting champion, Andrew Ramsay from Wico Fitness and with supplements by Xtreme Body in Cape Town.
"Diaan Suffers from anxiety disorder so Rhean helped him with the correct products to fit his lifestyle and condition," Shaun told Mambaonline. Joel Sassoon from fuel foods has also been looking after his diet requirements.
When he started working out, the celebrity bridal designer had a body fat percentage of 21 which has dropped over the past 11 months to 11%.
This is also Diaan's 20th year in the fashion industry, and he recently opened a brand new shop in Johannesburg with Shaun, as featured on Top Billing.
To mark these major life milestones, and to prove that '40 is the new 30′, Diaan posed for a series of pictures with well-known photographer Theo Kleinhans. "Diaan is very content with his age and is embracing this new chapter in his life with open arms," said Shaun.
Diaan regularly dresses some of South Africa's most recognised faces and celebrities and his creations have been worn at the Cannes Film Festival and the Emmy Awards.
While we believe that all bodies are beautiful, we think it's great that Diaan and his husband shared and worked on a common goal, and more than achieved it!
Check out Diaan's before and after pictures.