These 2 queer hip-hop presenters are changing perceptions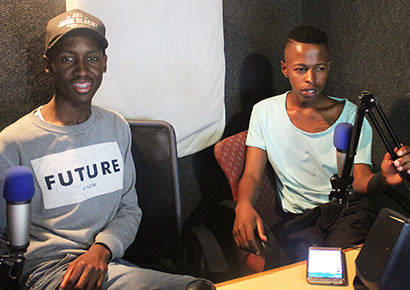 The rise of digital media has created new opportunities for many queer people who cannot break into mainstream industries, allowing them to start their own means of creating content.
This has led to breakthroughs in fields that have been traditionally regarded as reluctant to accept change and inclusion. Take the hip-hop world, which is known to be queerphobic, locally and globally.
Despite this, queer people are starting to break in and push forward a new narrative. Two of these creatives are Karabo 'Taurus' Khumalo and Bokamoso 'BeeKay DeGenerous King' Mahlari from Soweto, who are part of an upcoming local online hip-hop radio station called KoppolloaConnecta.
KoppollaC.co.za aims to improve and empower the youth in its community by debating current affairs. It prides itself on focusing on young people's talents and also seeks to help evolve hip-hop culture in South Africa through positive thinking and action.
MambaOnline had a Q&A session with Khumalo and Mahlari to find out more about their take on the hip-hop scene being queerphobic. They were surprisingly positive.
What else do they do aside from radio presenting?
Khumalo: Besides following my passion for radio at koppollaC, I also do fashion blogging via Twitter. I am waiting to launch my website and follow my passion for delivering fashion notes to South Africa.
Mahlari: I am a final year student in Business Management and Entrepreneurship at Varsity College. I'm also a FinEdu Content Researcher at Financial Fitness Bunny.
What do they aspire to be?
Khumalo: My aspiration is to be a luxury brand fashion designer and a stylist to the elite, mainly because fashion has always been something I've aspired to do. And it seems to be the only thing I'm good at besides radio.
Mahlari: There's a lot I aspire to be but my ultimate aspirations are to be a media personality in both TV and radio mainly because I am passionate about this industry and have the talent. I also aim to be an LGBTI activist and a business owner.
South Africa is generally an LGBTI friendly society. However, there seems to be huge reluctance when it comes to queer visibility in the mainstream hip-hop world. Do they agree with this sentiment?
Khumalo: I'm on the fence with this statement because I believe anything is possible, looking at the likes of [choreographer, stylist and musician] Mr Allofit, someone who has been able to break all barriers. He's building a name around the LGBTI community and hip-hop industry and making it possible for all of us to do it. But it's also a bit difficult because we've walked into an industry that is dominated by heterosexuals and we have to work extra hard to show our stand in hip-hop.
Mahlari: Well, in our country not a lot of people have fully accepted the LGBTI community. Tapping into the industry has become a challenge, mainly because people still think and believe that it should be a 'manly' industry and is not fit for the LGBTI. But we see the likes of Gyre and Mr Allofit who have broken the myth of gay people in the hip-hop industry.
Do they feel that their sexual orientation poses a threat or inhibits them from breaking into the mainstream industry?
Khumalo: No, we live in a free country and we can make it anywhere. All that it takes to break into the industry is hard work, determination and building a name around your craft.
Mahlari: I don't think [our] sexual orientation is a threat. Yes, we still find homosexuals who are in the closet in the industry but more and more are coming out, mainly to make others feel comfortable and accept their sexuality.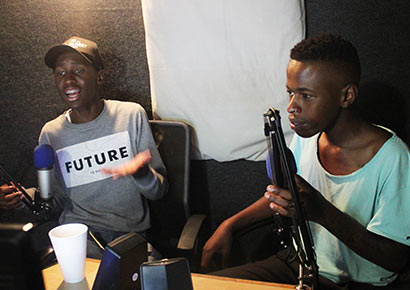 Do they feel that the mainstream industry will allow queer artists / presenters / creatives to dominate or have a share of the mainstream pie? 
Khumalo: Domination is not one of my goals. I believe in hard work and building a name around your craft. I also believe the industry is open for whoever who has a passion for it. The LGBTI have been in the industry, not specifically hip-hop, but in different sectors and if it's possible there, it's possible anywhere.
Mahlari: As a radio host in a hip-hop radio station, I went into the industry knowing that I'm gay and would make myself known. I came out once on my radio show to my listeners. That has helped me personally because it made me feel comfortable and have a good working relationship with my fellow colleagues. Look, in our country, a lot of people have come out and felt comfortable with their sexuality and we see a lot of people in the industry having their share of the pie or, should I say, a seat at the table. Also, we see a lot of other industries that are now having queer people and that on its own shows a step forward.