Police release images of possible suspects in Jussie Smollett hate attack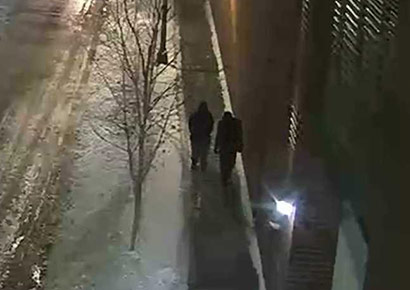 The Chicago Police department is asking the public to help find two individuals who are "people of interest" in the racist and homophobic assault of openly gay Empire star Jussie Smollett.
Anthony Guglielmi, the department's chief communications officer, on Wednesday posted two photos from a surveillance camera on social media.
He said that these were, "Photos of people of interest who were in area of the alleged assault and battery of Empire cast member."
Guglielmi added: "While video does not capture an encounter, detectives are taking this development seriously and wish to question individuals as more cameras are being reviewed."
The images, however, are extremely unclear and depict two individuals shrouded in darkness with no visible facial features.
Smollett, 36, was attacked in downtown Chicago in the early hours of Tuesday morning as he walked to his apartment after eating at a restaurant.
He was accosted by two men wearing ski masks who started shouting homophobic and racist slurs at him. Smollett was beaten in the face and had an unknown substance, possibly bleach, thrown onto him. The men also put a rope around his neck before fleeing the scene.
Smollett went to Northwestern Memorial Hospital were he was treated for a fractured rib and lacerations to his face and neck. The police are treating the incident as a "possible hate crime."
It's since come to light that Smollett was on the phone with music manager Brandon Z. Moore when he was assaulted. Moore said he heard the attackers yell, "Maga country!" Maga [make America great again] is a slogan popularised by Donald Trump during his election campaign.
"I heard that clearly. I heard the scuffle and I heard the racial slur," Moore told Variety.
The FBI are also believed to be investigating a threatening letter received by Smollett on 22 January that could be connected to the attack. The letter states, "You will die black f*g," and included a white powdery substance. The substance was found to not be dangerous.
Smollett is said to be "at home and recovering." He has not yet commented on the incident on his social media.
In a statement, Fox, the channel behind Empire, said: "We are deeply saddened and outraged to learn that a member of our Empire family, Jussie Smollett, was viciously attacked last night. We send our love to Jussie, who is resilient and strong, and we will work with law enforcement to bring these perpetrators to justice. The entire studio, network, and production stands united in the face of any despicable act of violence and hate—and especially against one of our own."
Photos of people of interest who were in area of the alleged assault & battery of Empire cast member. While video does not capture an encounter, detectives are taking this development seriously & wish to question individuals as more cameras are being reviewed pic.twitter.com/xJDDygtocr

— Anthony Guglielmi (@AJGuglielmi) January 31, 2019