Transgender woman speaks out after horror mob attack video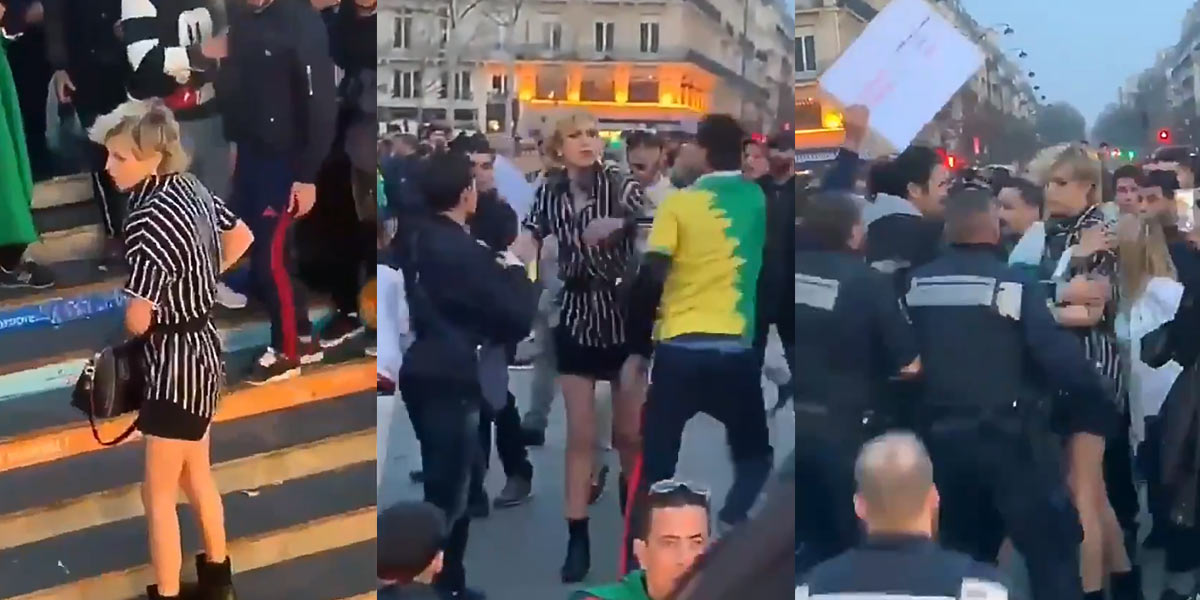 A transgender woman has spoken of her pain and humiliation after she was attacked by a violent mob in the streets of Paris.
Julia, 31, unexpectedly found herself in the middle of a protest against Algerian President Abdelaziz Bouteflika when she tried to take the metro last Sunday.
The shocking incident was caught on video and sees the hapless woman being verbally abused and harassed by a number of the protesters before being assaulted in broad daylight.
"I wanted to take the subway," she told HuffPost France.  "There, three men blocked me and one of them said to me: 'Hey, but you're a man!' I did not want to answer and I tried to avoid them, but they held me back by saying that I had to answer their question. One of them then touched my chest, surprised that I actually have breasts."
One of her assailants showed her his genitals and other men threw beer at her and slapped her. Julia was then repeatedly punched as the crowd aggressively gathered around her.
She was saved by security staff but her debasement was not over. "Even with them I was humiliated. They called me 'Sir'," she said. They also suggested that she was to blame for the attack because of how she was dressed.
Julia, who only started transitioning five months ago, explained that "The most traumatic is not the blows or the pain, but the humiliation. That's the hardest thing to handle. It's a psychological shock, I felt dirty."
She added: "They will not stop me from being who I am, they will never change me."
A video of the assault was posted online by the group SOS Homophobie and has gone viral, sparking outrage around the world.
Julia has, however, rejected Islamophobic sentiments related to the nationality of her attackers. "I do not want this aggression to be associated with a community," she told CNews. "I was facing intolerant men. The fact that they are Algerians has nothing to do with that."
The incident is being investigated as a hate crime on the grounds of gender identity and sexual orientation. One man was briefly detained but was later released.
Agression verbale et physique #transphobe place de la République à Paris. Effet de meute insupportable contre cette personne. Nous adressons tout notre soutien à la victime. Les auteurs de ces actes doivent être sanctionnés. Cc: @Lyes_Alouane pic.twitter.com/Kz1aCPvcuk

— SOS homophobie (@SOShomophobie) April 2, 2019