LGBTQI+ literary prize goes to Nigeria's OluTimehin Adegbeye
OluTimehin Adegbeye has received the Gerald Kraak Prize for her essay published in the latest edition of the African queer anthology, The Heart of the Matter.
Adegbeye won the R25,000 prize at an event at Exclusive Books in Hyde Park, Johannesburg on Thursday 23 May for her piece, Mothers and Men.
It is described as a meditation on the bonds between mothers and daughters. "The essay explores the fragility of healing with a rare sensitivity and insight," said the judges.
"OluTimehin Adegbeye's voice walks the fine line between heartbreak and redemption, casting new light on questions of rape and secondary victimisation in ways that are new and important," they added.
"Adegbeye is an urgent and timely voice and both her substantive interests and her prose and befitting of a prize that exists to champion human rights and complicate the framing of what it means to be African today."
Commendations were also made to Chisom Okafor for his poem, On My Coming Out, and to Chukwuebuka Ibeh for his short story, The Sickness of Longing.
This year's judging panel included head judge, Sisonke Msimang; writer, storyteller and author of Always Another Country, Mark Gevisser; one of South Africa's leading authors and journalists, Professor Sylvia Tamale; a leading African feminist who teaches law at Makerere University in Uganda, and Otosirieze Obi-Young; writer, literary journalist and deputy editor of Brittle Paper.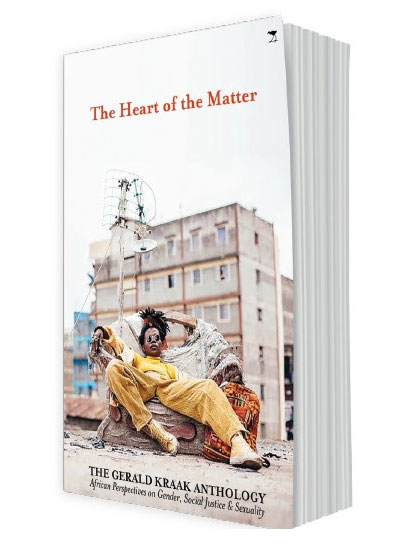 The Heart of the Matter anthology, the third in an annual series, is a collection of 21 shortlisted entries from over 400 submissions received from South Africa, Nigeria, Kenya, Uganda, Zimbabwe, and 6 other African countries.
It showcases some of the most provocative works of fiction, poetry and non-fiction. These stories capture the essence of the African LGBTQI+ community and showcase some of Africa's most talented writers. The anthology aims to give a voice to those who would otherwise be marginalised and it insists that differences must be recognised, embraced and celebrated.
The award was presented by the Jacana Literary Foundation, in partnership with the Other Foundation. Adegbeye is the third recipient of the award, which was first launched in 2016 in honour of passionate queer champion for social justice and anti-apartheid activist Gerald Kraak (1956–2014).
Submissions for the Gerald Kraak Anthology and Prize are open all year. Click here for guidelines.