The best LGBTQ books released this year (so far)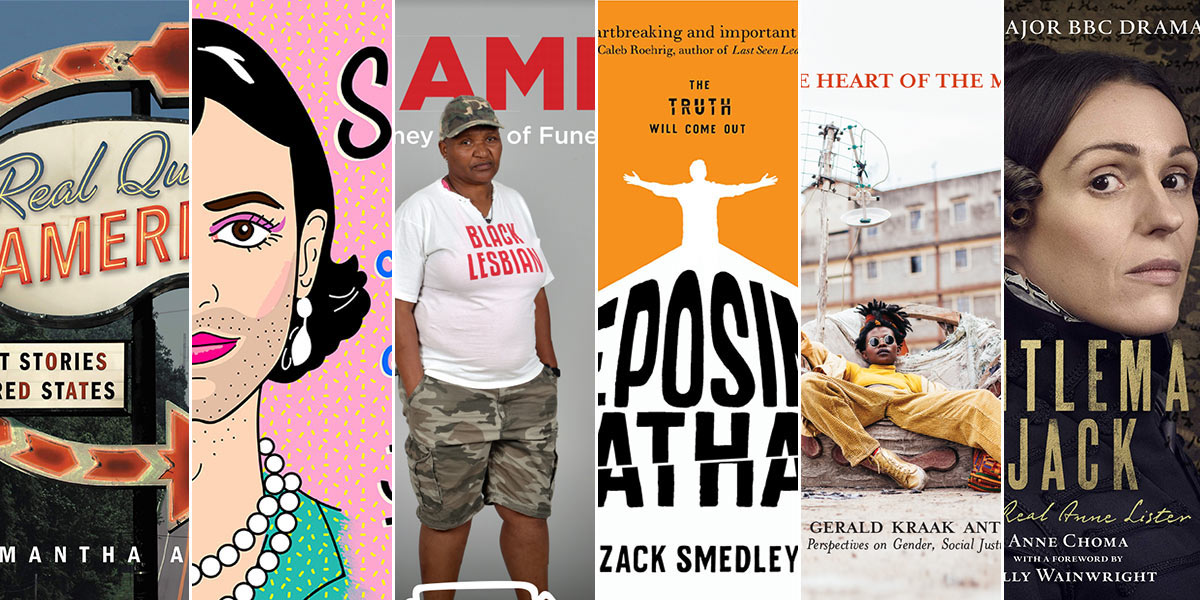 Readers, gather round! If you've been salivating after LGBTQ books that you can really sink your teeth into, look no further – here are some of the most exciting local and international reads 2019 has offered up so far.

The Heart of the Matter: The Gerald Kraak Anthology
"The Heart of the Matter is a collection of the 21 shortlisted entries from over 400 submissions received from South Africa, Nigeria, Kenya, Uganda, Zimbabwe, and six other African countries.
"It showcases some of the most provocative works of fiction, poetry and non-fiction. These stories capture the essence of the African LGBTQI+ community and celebrate some of Africa's most talented writers.
"The anthology gives a voice to those who would otherwise be marginalised and it insists that differences must be recognised, embraced and celebrated."
Why it's worth a read: The third iteration of this anthology, first published in honour of late activist Gerald Kraak, "advances his contribution to building a world that is safe and welcoming to all". The Heart of the Matter showcases the best in queer fiction, non-fiction and poetry that the continent has to offer.

Real Queer America: LGBT Stories from Red States – Samantha Allen
"Ten years ago, Samantha Allen was a suit-and-tie-wearing Mormon missionary. Now she's a senior Daily Beast reporter happily married to another woman. A lot in her life has changed, but what hasn't changed is her deep love of Red State America, and of queer people who stay in so-called 'flyover country' rather than moving to the liberal coasts.
"In Real Queer America, Allen takes us on a cross-country road-trip stretching all the way from Provo, Utah to the Rio Grande Valley to the Bible Belt to the Deep South. Her motto for the trip: 'Something gay every day.' Making pit stops at drag shows, political rallies, and hubs of queer life across the heartland, she introduces us to scores of extraordinary LGBT people working for change, from the first openly transgender mayor in Texas history to the manager of the only queer night club in Bloomington, Indiana, and many more.
"Capturing profound cultural shifts underway in unexpected places and revealing a national network of chosen family fighting for a better world, Real Queer America is a treasure trove of uplifting stories and a much-needed source of hope and inspiration in these divided times."
Why it's worth a read: Stereotype and stigma is the result of not being willing to hear the other side of any story first-hand. Get rid of your preconceived notions about America's red states, and prepare yourself to see things a little differently.

Sissy: A Coming-of-Gender Story – Jacob Tobia
"From the moment a doctor in Raleigh, North Carolina, put 'male' on Jacob Tobia's birth certificate, everything went wrong. Alongside 'male' came many other, far less neutral words: words that carried expectations about who Jacob was and who Jacob should be, words like 'masculine' and 'aggressive' and 'cargo shorts' and 'SPORTS!'
"Naturally sensitive, playful, creative, and glitter-obsessed, as a child Jacob was given the label 'sissy.' In the two decades that followed, 'sissy' joined forces with 'gay,' 'trans,' 'nonbinary,' and 'too-queer-to-function' to become a source of pride and, today, a rallying cry for a much-needed gender revolution. Through revisiting their childhood and calling out the stereotypes that each of us have faced, Jacob invites us to rethink what we know about gender and offers a bold blueprint for a healed world – one free from gender-based trauma and bursting with trans-inclusive feminism.
"From Jacob's Methodist childhood and the hallowed halls of Duke University to the portrait-laden parlors of the White House, Sissy takes you on a gender odyssey you won't soon forget. Writing with the fierce honesty, wildly irreverent humor, and wrenching vulnerability that have made them a media sensation, Jacob shatters the long-held notion that people are easily sortable into 'men' and 'women.' Sissy guarantees that you'll never think about gender – both other people's and your own – the same way again."
Why it's worth a read: Sissy truly is a gender odyssey – and an important journey to undertake at a time when we are just starting to focus on the many nuances of gender.

Deposing Nathan – Zack Smedley
"For sixteen years, Nate was the perfect son –the product of a no-nonsense upbringing and deep spiritual faith. Then he met Cam, who pushed him to break rules, dream, and accept himself. Conflicted, Nate began to push back. With each push, the boys became more entangled in each others' worlds…but they also spiralled closer to their breaking points. And now all of it has fallen apart after a fist-fight-turned-near-fatal-incident –one that's left Nate with a stab wound and Cam in jail.
"Now Nate is being ordered to give a statement, under oath, that will send his best friend to prison. The problem is, the real story of what happened between them isn't as simple as anyone thinks. With all eyes on him, Nate must make his confessions about what led up to that night with Cam…and in doing so, risk tearing both of their lives apart."
Why it's worth a read: Deposing Nathan is YA novel that speaks to the heart of internalised homophobia, and is an important read for young people navigating their way out of the closet.

The Stonewall Reader – Jason Baumann
"June 28, 2019 marks the fiftieth anniversary of the Stonewall uprising, which is considered the most significant event in the gay liberation movement, and the catalyst for the modern fight for LGBTQ rights in the United States.
"Drawing from the New York Public Library's archives, The Stonewall Reader is a collection of first accounts, diaries, periodic literature, and articles from LGBTQ magazines and newspapers that documented both the years leading up to and the years following the riots.
"Most importantly the anthology spotlights both iconic activists who were pivotal in the movement, such as Sylvia Rivera, co-founder of Street Transvestites Action Revolutionaries (STAR), as well as forgotten figures like Ernestine Eckstein, one of the few out, African American, lesbian activists in the 1960s. The anthology focuses on the events of 1969, the five years before, and the five years after."
Why it's worth a read: By most accounts, the events at the Stonewall Inn in June 1969 ignited the LGBTQ revolution. The Stonewall Reader comprehensively documents these important events.

Gentleman Jack: The Real Anne Lister – Sally Wainwright and Anne Choma
"In Gentleman Jack, historian and series consultant Anne Choma draws from the explosive diaries of Anne Lister to recreate the life and times of one of the most fascinating figures of the 19th century. Anne's remarkable diaries, partly written in a secret code, detailed her innermost thoughts on everything from sex, menstruation and money to relationships, politics and society. As Choma shows, they have opened up a previously unknown world to us.
"Fearless, charismatic and determined to explore her lesbian sexuality, Anne forged her own path in a society that had no language to define her. This is the real Gentleman Jack, following Anne from her crumbling ancestral home in Yorkshire to the glittering courts of Denmark as she resolves to put past heartbreak behind her and find herself a wife. The official companion to the first series, it also features unpublished journal extracts decrypted for the first time, as well as a foreword by series creator Sally Wainwright."
Why it's worth a read: If you've been following the TV series, this book will be able to answer all the burning questions you might have about this fascinating historical British figure.

uHambo – Funeka Soldaat
"Written by longtime Western Cape activist Funeka Soldaat, uHambo is an inspiring autobiography about her experiences of discrimination and hate. The LGBTQ+ community, and especially black lesbian women, are one of the main targets of hate crimes in South Africa.
"As a survivor herself, Soldaat's no-holds-barred book explores the realities of victims of so-called 'corrective rape' and murder, especially in townships and peri-urban areas. In 1995, she was attacked by four men not far from her home in Khayelitsha. When she went to the police to report the rape, officers refused to take her statement.
"uHambo affirms the value of the lives of black lesbian women in an anti-queer society. It also aims to educate and inspire young black lesbian women about gender diversity and sexuality."
Why it's worth a read: This book exists in the context of queer people needing to authentically document and write their own stories and histories. uHambo is another important step in that direction.