'Judy' brings the gay icon to a new generation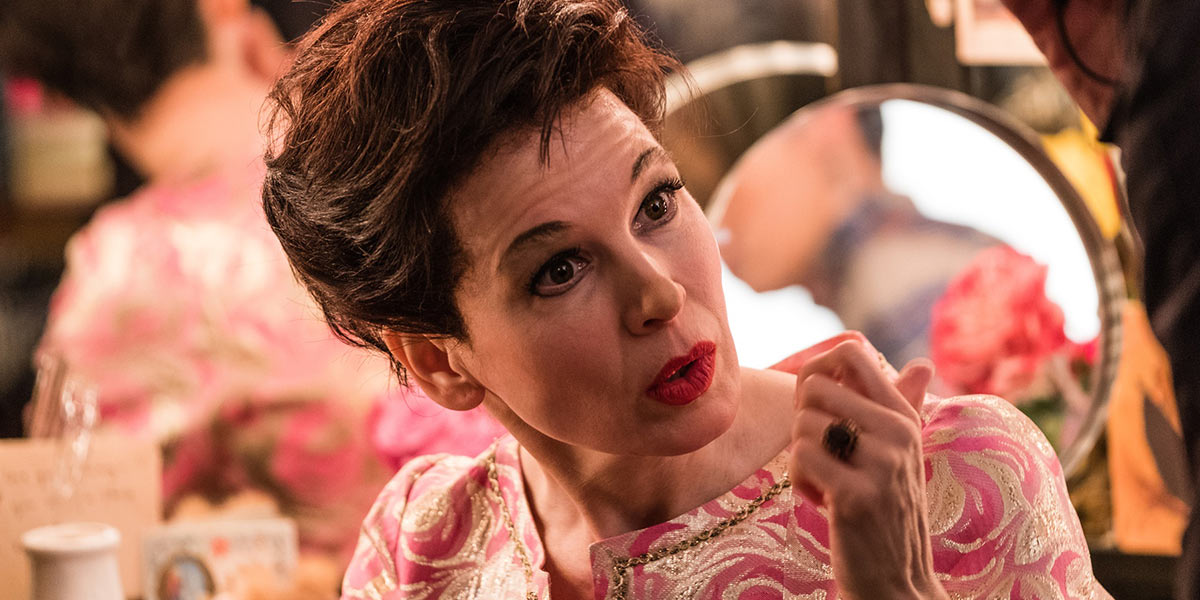 Renée Zellweger stars as the legendary performer and gay icon Judy Garland in the Golden Globe-winning Judy, opening in South Africa on 10 January.
The film is set in 1968 as the American actress, singer and dancer – who shot to global stardom as a child in The Wizard of Oz – arrives in Swinging London to perform in a sell-out series of shows.
As she prepares, battles with management, charms musicians, and reminisces with friends and adoring fans, Garland's wit and warmth shine through. She also embarks on a courtship with Mickey Deans (Finn Wittrock), her soon-to-be fifth husband.
And yet Garland is fragile. After working for 45 of her 47 years, she is exhausted; haunted by memories of a childhood lost to Hollywood; gripped by a desire to be back home with her kids. Will she have the strength to go on?
Featuring some of her best-known songs, Judy celebrates the voice, the capacity for love and the sheer pizzazz of "the world's greatest entertainer".
The legend of Judy Garland
Garland graced stage and screen in a career lasting over forty-five years, winning hearts with her wit, warmth and incredible vocal ability.
"I'm one of millions and millions through the generations who fell in love with her," says Zellweger of her character in the film Judy. "She's beloved and internationally revered as arguably the greatest entertainer who has ever lived."
By 1969, however, Garland was very different from the child star of the 1930s and the Hollywood celebrity of the 1940s and 1950s. Hard living had made her unreliable and, as the work dried up, she had fallen into debt and lost her home.
The film looks at why Garland's performances took so much out of her. "Most people put on a veneer when they're in front of a camera or an audience," says Zellweger, "I think with Judy, you got the real person."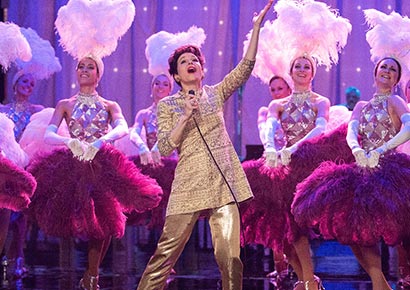 Zellweger notes that "This was a period in her life when she was working because she needed to work, but physically needed to rest. Her voice, the thing that gives her value and self-worth, is also the thing that she's destroying in order to be able to take care of her children."
For director Rupert Goold, one of the things that drew him to the script was that it focused on such a specific period of the Judy Garland story. "I felt there was an opportunity there to avoid the pitfalls of the linear 'then this happened next' biopic. The film could become a sort of passion play about the tragic end but ultimate apotheosis of a kind of secular saint. Both an origins story but also a final redemption."
Judy Garland – the gay icon
2019 marked the 50th anniversary of Judy Garland's death and the 80th anniversary of the release of The Wizard of Oz, the film that turned her into a star overnight.
Today, Garland remains a much-loved figure representing campness, survival and defiance for many gay men. A connection was made over the years between her and the community, not only because of her striking ability as a performer but also due to her struggle to overcome her many personal challenges. It's also known that Garland liked to visit gay bars with her gay friends.
Garland's version of the song Over the Rainbow – expressing hope, in the face of dark times, for a better and bright world – is still something of a gay anthem. The term "Friends of Dorothy" (Dorothy was the name of her character in the Wizard of Oz) even became a code phrase that gay people used to identify each other.
There have also been claims that the Stonewall Riots of 1969 – which ignited the LGBTQ rights movement – had links to Garland's funeral the previous day. At least some of patrons had come to the bar from the emotional funeral to mourn the star's death and stayed into the night and early hours of the morning.
Stonewall patron Sylvia Rivera, who attended the funeral, said: "I guess Judy Garland's death just really helped us really hit the fan" after the bar was raided by police.
According to Time magazine, "The uprising was inspirited by a potent cocktail of pent-up rage (raids of gay bars were brutal and routine), overwrought emotions (hours earlier, thousands had wept at the funeral of Judy Garland) and drugs."
The mutual admiration between Garland and the gay community is movingly explored in the film in a pivotal scene in which she meets and has dinner with a gay couple who are fans.
Judy for a new generation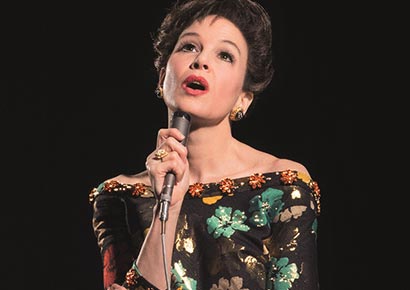 The success of the film Judy is an opportunity for Garland to reach a new generation. It is especially a triumph for Zellweger who has received universal acclaim for her remarkable take on the troubled star.
Rosalyn Wilder, who was tasked with taking care of Judy Garland when she was in London, was blown away by the actress's performance: "When I saw how the make-up and the dress transformed her, I was absolutely stunned. I had never seen such a transformation in my life; it was almost impossible to believe."
"There was no one else who had the ability to sing, act and be comedic in that way. And by good fortune, Renée was the same age as Judy at the time she gave these London shows," adds Producer David Livingstone.
A year before the official rehearsal process began, Zellweger started training with a vocal coach in the US, before finally rehearsing for fur months with the film's musical director, Matt Dunkley.
Cast and crew were astounded by Zellweger's vocal ability. For David Livingstone, being able to sing live without the backing of a full orchestra during filming was all the more impressive: "She's singing to the sound of a band that's playing in her earpiece. It's bold and courageous for her to do it. She's not only singing, but performing and exposing every last detail of her voice without it being submerged in a band."
Zellweger won the Golden Globe for Best Actress in a Motion Picture – Drama for Judy. She's also been nominated for and already won numerous other acting awards for the role. An Oscar nomination is widely expected.
Judy is in South African cinemas from 10 January 2020.