PE activist defiant over "LGBTIQ+ agenda" school photo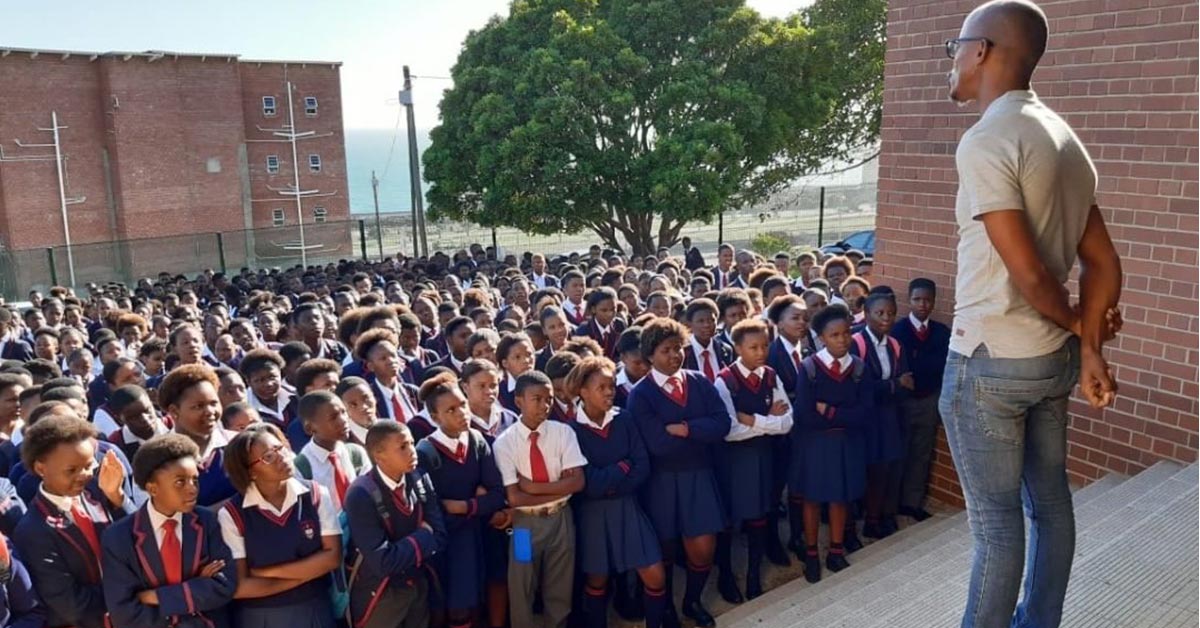 Port Elizabeth activist Mbulelo Xinana has inadvertently sparked a firestorm on Twitter over a photo of himself sensitising school pupils about LGBTIQ+ discrimination and bullying.
Xinana, from the Eastern Cape organisation Sicebise Social Inclusion, recently posted the photo on Twitter, along with the caption: "Pushing LGBTIQ+ agenda in schools."
The image of the activist speaking in front of a large group of pupils immediately set off a furious debate on the social media platform, generating more than 4,000 likes and 470 comments. The discussion centered on the appropriateness of educating children about LGBTIQ+ inclusion.
"This is one of the schools in Nelson Mandela Bay I am working with," Xinana tells MambaOnline about the photo. "We do LGBTIQ sensitisation to learners, teachers and parents in order to create safe spaces. So this particular day was just part what I often do."
Many, however, slammed Xinana's work as some kind of attempt to "promote" homosexuality or "turn" children gay. He was accused of being "militant" and "teaching children about homosexuality".
"Eish don't you think it's a bit too soon?" asked one Twitter user, to which Xinana responded: "To teach acceptance, tolerance and compassion among children?"
For many, the caption and image seemed to confirm their homophobic fears that educating children about LGBTIQ+ inclusion and equality are nothing more than attempts to sexualise or "convert" them as gay.
Xinana describes this longstanding trope as "absolute nonsense," adding that "this is a matter of identity; self-determination." The "LGBTIQ+ agenda," he says, is nothing more than striving to create a more equal and welcoming society.
Xinana argues that in the context of ongoing queerphobia in schools and discrimination and often deadly violence across society at large, sensitising children and teachers about LGBTIQ+ tolerance and inclusion is especially vital.
"Discrimination and bullying are major factors as to why LGBTIQ+ learners at school withdraw from attending, lose self-esteem and subsequently commit suicide," he says.
According to a 2016 Love Not Hate report by OUT LGBT Well-being, 56% of LGBT South Africans surveyed said they'd experienced discrimination based on their sexuality or gender identity while attending school.
With the support of the district Department of Education and the Department of Social Development, Sicebise Social Inclusion promotes human rights as enshrined in the Constitution, which should hardly be controversial.
Religious right-wing groups, however, continue to generate hysteria and panic among parents about efforts to make school curricula inclusive of same-sex families and sexual and gender diverse South Africans.
Xinana admits that he was shocked at the extent of the homophobia that his photo and post generated. "At the centre of their homophobic behaviour there is one common denominator: fear of others who different than you."
Pushing LGBTIQ+ agenda in schools 🌈🏳️‍🌈🌈🏳️‍🌈🌈 pic.twitter.com/Wuf5sNrpNs

— Mbulelo Xinana 🌈 (@mbuleloxinana) November 13, 2020