The Summer Solstice Gay Weekend is here!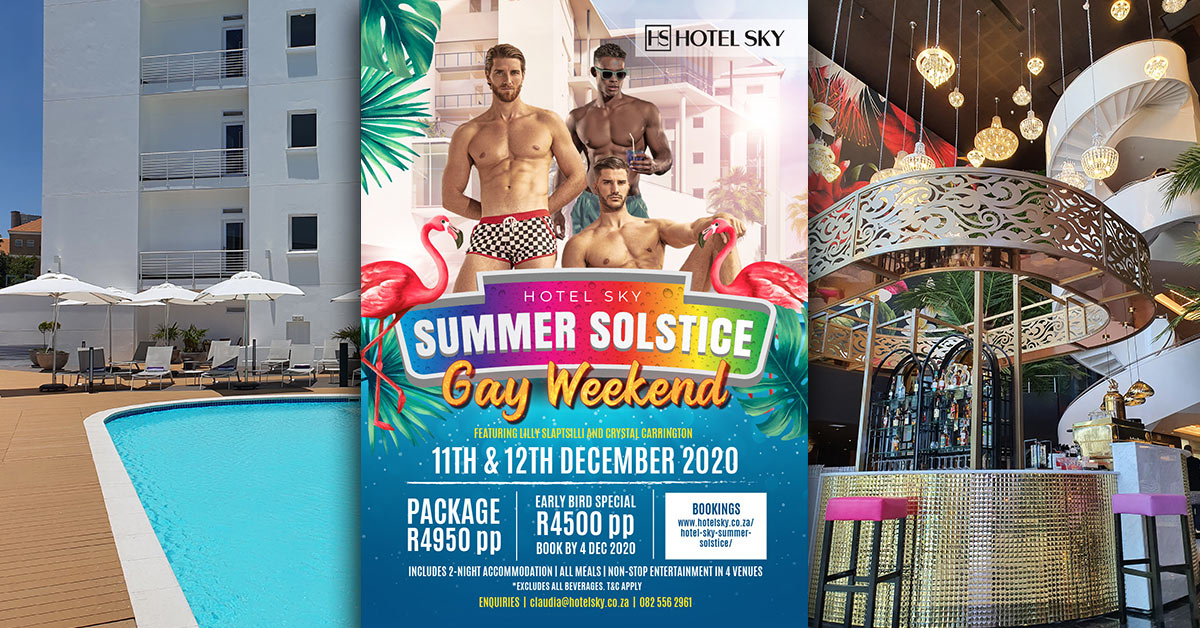 8 DEC 2020 UPDATE: The Summer Solstice Gay Weekend has unfortunately been postponed due to growing concerns around a possible second wave of Covid-19 cases in South Africa. The organisers have apologised for the inconvenience and a full refund will be processed by Hotel Sky to all guests who have booked.
After a long drought, pink partying is officially back – with a bang! The Summer Solstice Gay Weekend is a sparkling new annual addition to the pink calendar and the first-ever gay event of its kind in Jozi!
The weekend is happening Saturday 11 and Sunday 12 December and features the likes of Lilli Slaptsilly and Crystal Carrington as entertainment.
And the setting is HOTEL SKY, Sandton's newest and glitziest hotel… the new home of style, indulgence and unforgettable experiences. So you'll be sleeping on brand new beds too!
Don't miss out on the opportunity to be the first to experience and stay in this brand new hotel while enjoying the Summer Solstice Gay Weekend hospitality.
Boasting some of SA's drag royalty, Jo'burg's best DJs, singers, performers and fabulous themed parties, this event promises a weekend of unrivalled entertainment.
Your ticket includes:
All meals (including a 24-hour buffet), entrance to all shows and all parties – click here for details of the jam-packed weekend!
So say goodbye to 2020 in fabulous style and book now!
Note that CoVid regulations and precautions will be adhered to, so tickets are limited to 400, which is half-capacity of the hotel.
Once everyone is checked in on Friday, no one will be able to enter or leave until check-out on Sunday morning, just like a weekend away.