Summer Solstice Gay Weekend postponed over Covid-19 fears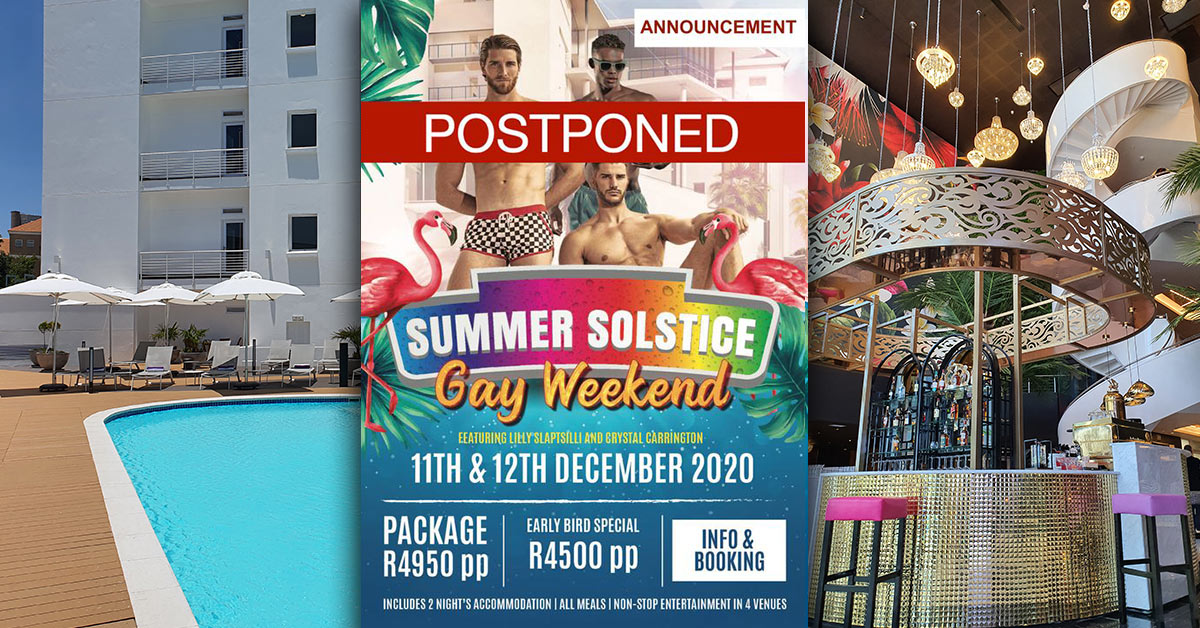 The organisers of the Summer Solstice Gay Weekend have announced that the event has been postponed due to growing concerns around a possible second wave of Covid-19 cases during the festive season.
The two-day event was set to take place on Saturday 11 and Sunday 12 December at the new Hotel Sky in Sandton and would feature the likes of Lilli Slaptsilly and Crystal Carrington as entertainment.
The news comes as the authorities expressed alarm over almost 100 new Covid-19 infections that have been linked to the recent Ballito Rage student festivities, leading to the postponement of all Rage events in South Africa.
Below is the full statement by the organisers of the Summer Solstice Gay Weekend on their postponement:
Our team have been carefully monitoring local media reports and the South African government's alerts surrounding a potential resurgence of Covid-19 in South Africa. While our event has been planned with the restrictions that govern the gathering of people both within indoor and outdoor venues in mind, as a leadership team we have made the difficult decision to postpone the Summer Solstice Gay Weekend.
We have not arrived at this decision hastily and have been in constant consultation with our partners, suppliers and local authorities over recent weeks. Our priority is to ensure we act responsibly with you and the country's safety firmly in mind.
Hotel Sky has spent the last couple of months getting the hotel ready to open and preparing to host the Summer Solstice Gay Weekend, we're genuinely disappointed not to be able to host you at this event at this time.
We would like to thank all our partners for their support, open discussions and encouragement. Great things happen when the community comes together.
A full refund will be processed by Hotel Sky to all guests who have booked. We will be working with our partners in the LGBTQ community to finalise the details and will share more information about our plans for the Summer Solstice Gay Weekend in the new year.
For more information, please DM us on our Facebook page or contact Claudia@hotelsky.co.za for any Hotel Sky queries and refunds.