Paying tribute to pioneering Kenyan queer artist, Kawira Mwirichia
The LGBTQI+ community in Kenya is mourning the recent death of one of its most noteworthy members, the artist and curator, Kawira Mwirichia.
Trained as a civil engineer, Mwirichia was an eminent queer artist in Kenya, also having completed art training at the Institute of Advanced Technology.
Mwirichia's work spanned a range of disciplines, including sculpture, drawing, painting and graphic design. Perhaps her most famous work, which also drew the attention of the international art world, is her project To Revolutionary Type Love.
To Revolutionary Type Love (later called Kanga Pride) features a series of kangas – Kenyan colourful printed cotton fabric that can be worn, among other uses, as a headscarf or nightdress, and also features prominently as a part of traditional Kenyan wedding ceremonies.
When attending a friend's wedding in 2015, Mwirichia witnessed kangas being laid down for the bride after the groom's family had visited her maternal home to express their happiness about receiving her into their family.
Speaking to Kuchu Times in 2019, Mwirichia explained that this event served as her inspiration to create a kanga for all 196 countries in the world, each inspired by historical moments in a country's fight for LGBT rights.
"While witnessing all this, it occurred to me that this gesture of open celebration of someone's love is something that is denied to the LGBTIQ community because of our Queerness," said Mwirichia.
"So much that, probably even the most loving and accepting families may not feel safe or comfortable enough to so loudly and publicly celebrate their child's queer partner. This made me think that perhaps we can use this gesture amongst ourselves – to lay down our own kangas, filled with our own histories – in celebration of ourselves."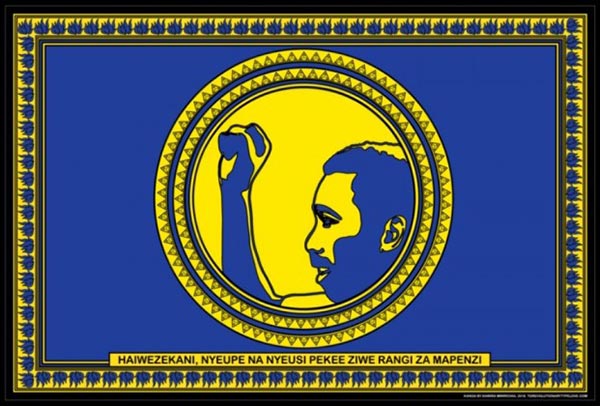 Mwirichia's South African kanga (above) features the activist Simon Nkoli and reads in Swahili, "Haiwezekani, nyeupe na nyeusi pekee ziwe rangi za mapenzi", which translates to, "Black and white are not the colours of love. They never were."
Aside from creating kangas for To Revolutionary Type Love, Mwirichia was also a drag artist and the creator of the Kenyan Drag Qings and Kueens workshop. Other projects included the creation of a 10-page colouring book of lesbian Kama Sutra positions, dubbed Lez Ka-Lour!
Mwirichia's body was found in her home in Lavington early in November after she was reported missing a few weeks prior. The artist was laid to rest at the Langata Cemetery in Nairobi on 10 November, with a number of friends and family members in attendance, many among them also part of Kenyan LGBTQ activist groups.
The police are still investigating Mwirichia's death.