Nigerian politician's son defiantly comes out as gay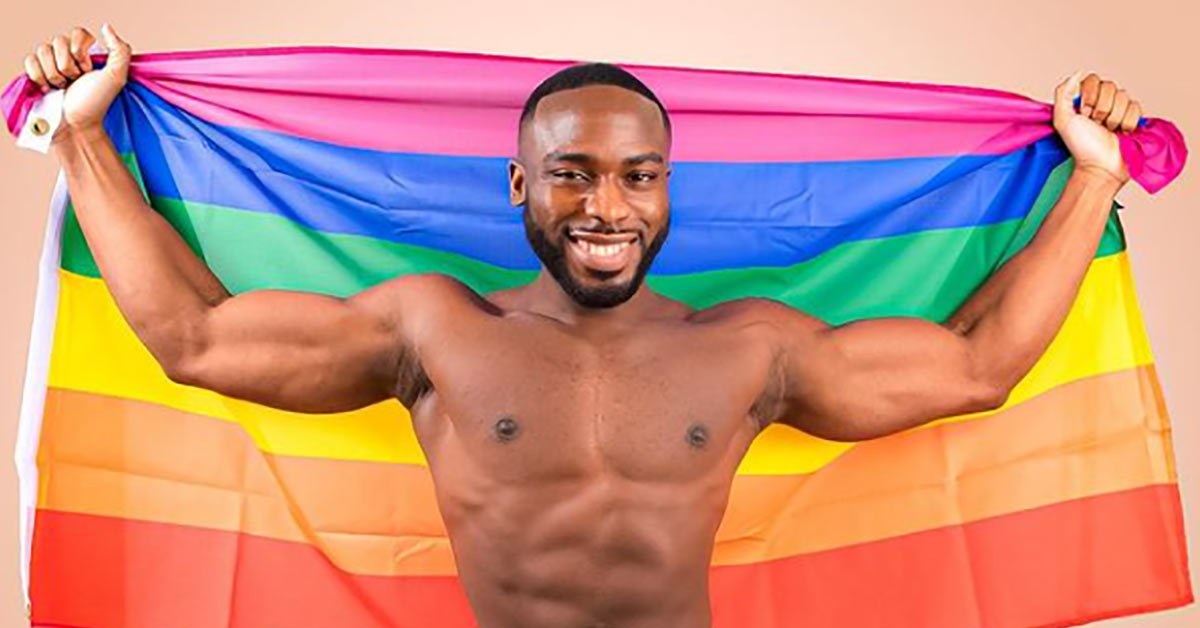 Bolu Okupe, the son of a former Nigerian presidential advisor, has come out as gay on social media, much to the dismay of his religious dad.
This past week, the 27-year-old muscular Bolu posted a photo of himself on Instagram wearing rainbow swimming trunks and holding a rainbow flag, with the caption: "Yes I'm Gay AF."
According to the location tag, Bolu – who is based in Europe – took the image in Paris. With a Masters of Science in International Management, he also appears to have ambitions of modelling and is actively promoting his OnlyFans page.
Bolu's father, Doyin Okupe, is a well-known physician and politician in Nigeria. He was Special Assistant on Media and Publicity to former President Olusegun Obasanjo and a Senior Special Assistant on Public Affairs to former President Goodluck Jonathan.
Doyin took to Twitter to respond to the furore around his son's coming out, making it clear that as a Christian he cannot condone homosexuality.
"My attention has been drawn to a publication of my 27 yr old son, Bolu okupe, in which he declared publicly that he is Gay," said Doyin. "I gave him that name MOBA OLUWA RIN, (I WALKED WITH GOD) because he was born at the time I gave my life to Christ."
He continued: "I have been aware of this his new orientation for a while now. He knows that as a Christian and a witness for Christ (an evangelist) I am vehemently opposed to homosexuality as it runs contrary to the avowed precepts of my Christian faith."
Doyin added: "For me I look beyond the surface or the physical. Here I see a major spiritual challenge ahead but I know as my God liveth, this whole saga will end up in Praise to the Almighty Jehova who i serve day and night."
Despite the image receiving more than 4,000 likes, Bolu also had to face homophobia from trolls on Instagram leading him to ultimately remove all comments from the post.
Addressing one religious bigot from Kenya who told him to stay in France and asserted that "We Black colored Never go against our God!!", Bolu wrote:
"Your whole mentality is tragic. I feel sorry for you. First, you said to stay in France with your stupidity; sir, who do you think gave Africans Christianity? The French and the English pushed the religion on you that you are calling. You should know that the same religion that you so deeply cherish justified people to enslave your ancestors in the past."
Nigeria has some of the most repressive anti-LGBTQ laws in the world. Under colonial-era legislation, anyone found guilty of engaging in homosexual acts can be jailed for 14 years. In some northern states, gay Muslims could also be put to death by stoning under Shari'a law.
A 2014 federal law further prohibits same-sex marriages and relationships with a penalty of up to 14 years in prison. It further stipulates 10 years in jail for public displays of same-sex affection and for membership or support of LGBTQ groups.
View this post on Instagram
My attention has been drawn to a publication of my 27yr old son, Bolu okupe, in which he declared publicly that he is Gay.
I gave him that name MOBA OLUWA RIN, ( I WALKED WITH GOD) because he was born at the time I gave my life to Christ. pic.twitter.com/39RXFueGVB

— Doyin (@doyinokupe) January 21, 2021