Meet Afrikaans soapie Suidooster's same-sex couple
In a first for an Afrikaans soapie, kykNET's popular Suidooster recently introduced a married same-sex female couple to its ensemble of characters.
Natasha van der Merwe plays Susan while Esther von Waltsleben is Elana. Significantly, both actors have been made part of the permanent cast.
The characters of Elana and Susan met at a game lodge in Limpopo, where Susan worked as a game range. They moved to Cape Town where they decided to settle in Ruiterbosch (a fictional suburb in Suidooster) where they open a beach bar. The success of the business as well as their personal life will come under the lens in the show. Their paths also cross with Susan's ex-boyfriend, Justin.
Now in its seventh season, Suidooster has had some groundbreaking storylines for an Afrikaans soap, such as including a Muslim family as part of the main storyline and depicting Islamic traditions.
We spoke to Esther and Natasha about their roles and how they are being received by fans of the show.
Describe your character in one sentence.
Natasha: Suzie is the life of the party and is loyal, loving, empathetic and believes everything in life deserves to be handled with respect.
Esther: Elana is a strong and confident businesswoman who is comfortable in her own skin and utterly in love with her wife and her life.
What, for you, is the significance of having a same-sex couple in Suidooster?
Natasha: I get asked this a lot. I'm hoping that our characters create an awareness of an underrepresented community which would ultimately lead to people gaining a better understanding of diverse family dynamics.
Esther: It's hugely significant. It means we are, at last, acknowledging relationships like theirs.
The Afrikaans community is often seen as a more conservative one. Was this a concern for you?
Natasha: It wasn't necessarily something that worried me, but obviously it was a consideration as we realised that conservative audiences might struggle with the content. However, we are incredibly proud of the story we are telling and hope that that might shift people's perceptions and to realise that love is love.
Esther: I rather see it as a stronger motivation for the inclusion of this couple. It's not like there are less LGBTQ+ individuals in the Afrikaans community than the rest. Representation matters.
What kind of response have you had from viewers to your characters?
Natasha: [Laughs] Mixed, very mixed. I've had people telling me that they are so grateful for the representation but as with anything new and societally challenging, there are going to be people who find any material either very positive or incredibly challenging, as it forces people out of their comfort zone.
Esther: There has been the expected moans and groans but the pushback to them is louder. That support means a lot to us.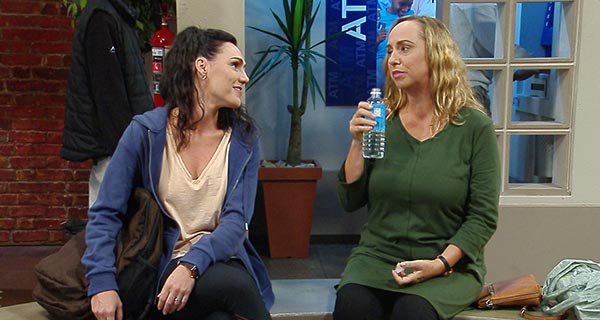 LGBTQ+ roles have been bedevilled by stereotypes over the years. How do you ensure that your characters avoid those kinds of pitfalls?
Natasha: Our writers and directors are incredibly good at ensuring that our characters are being celebrated, as they should be!
Esther: I have quite a few same-sex couples in my circle of friends. Keeping them in the back of my mind, helped me with the development of Elana. Her being gay is not a character trait. It's embedded in her identity. What comes with it, like for example society's assumptions and the possible discrimination she might have had to endure, will for me affect how she handles certain individuals and situations in the present day.
Are you able to express physical closeness with each other on the show (hugging, kissing, holding hands etc..) like any other couple?
Natasha: Sadly, we are living through a world pandemic, so we aren't able to get too intimate on set, but we do show love and affection where we can.
Esther: We wanted to be more physical from the start but we were reined in a bit, and with good reason. Tash and I wanted to 'show' their closeness but in real life married couples don't do that in public much. We still go for it when it feels natural to do so.
To what extent are your storylines going to be focused on your character's sexuality?
Natasha: Our narrative follows a story line, as any other character would. It's an important part of the story, but not the whole story.
Esther: Mention has been made of Elana's parents who pushed her out because of her sexuality but up to now it's not been a central storyline. At the moment, we are just a married couple with the usual hopes and fears, ups and downs, who happen to be same-sex.
Many LGBTQ+ characters in local soaps have been short-term roles. How significant is that you are part of the permanent cast?
Natasha: What is wonderful is that Suidooster is not just touching on the subject, it's incredibly significant that they willing to include it in a permanent storyline. It speaks to their open mindedness and their want for social change.
Esther: Elana and Susan are here to stay. The viewers are being given the opportunity to really get to know them, as individuals and as a couple, and to invest in them and their relationships as they do with the other characters.
Your characters were introduced during International Pride Month. What kind of message do you think that it sends?
Natasha: I think it sends a message of celebration and inclusivity, which is what we need right now!
Esther: I think it's perfect. As if Suidooster and kykNet are saying to the LGBTQ+ community: 'we see you'.
What kind of impact do you hope that your characters will have on South Africans?
Natasha: Prejudice comes from fear, and fear prevents people from learning and accepting, so we hope that the show will open people's minds and open the conversation that different doesn't mean wrong.
Esther: I hope that we can play a small part in the normalisation and acceptance of all sexual identities…even in the more conservative Afrikaans community. The more we know, the more we grow.
New episodes of Suidooster air weekdays at 18:30 on kykNET (DStv channel 144) and can be streamed on ShowMax.