Here are all the Pride Month queer parties in Joburg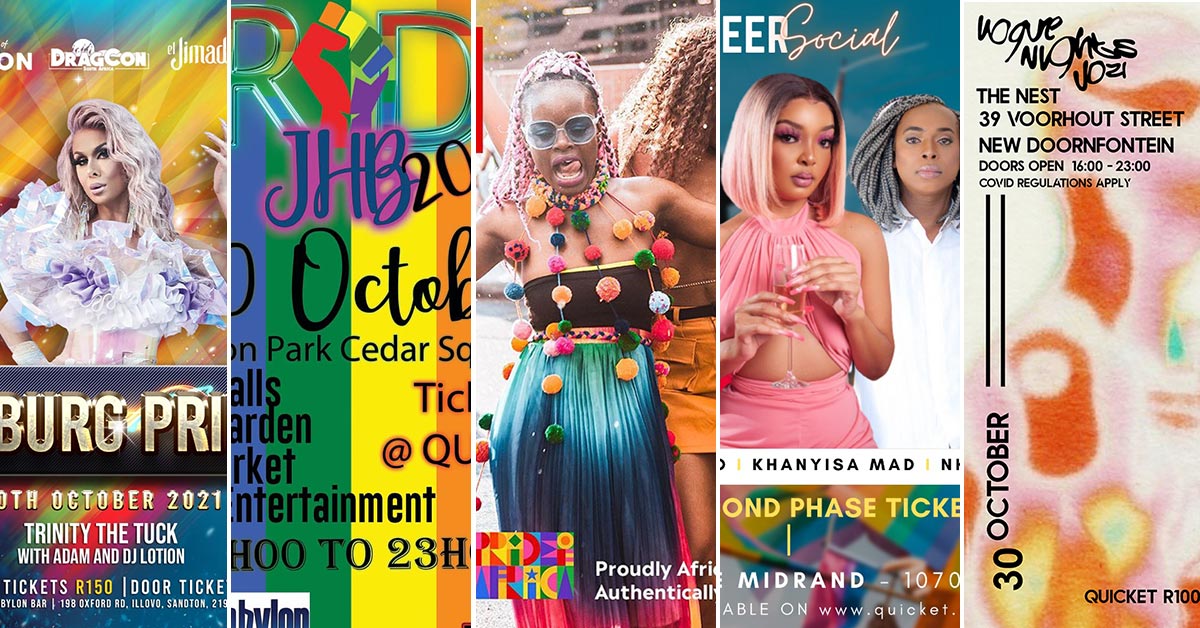 Jozi's queer community will be celebrating the conclusion of Pride Month with a series of socials across the city.
Although Africa's very first Pride march was held in Johannesburg on 13 October 1990, there is again no march this year due to Covid-19 restrictions. But, several Pride-themed parties and events are set to go ahead.
So, here, in alphabetical order, are the rainbow gatherings taking place on Saturday 30 October in Joburg.
BABYLON THE BAR PRIDE PARTY- ILLOVO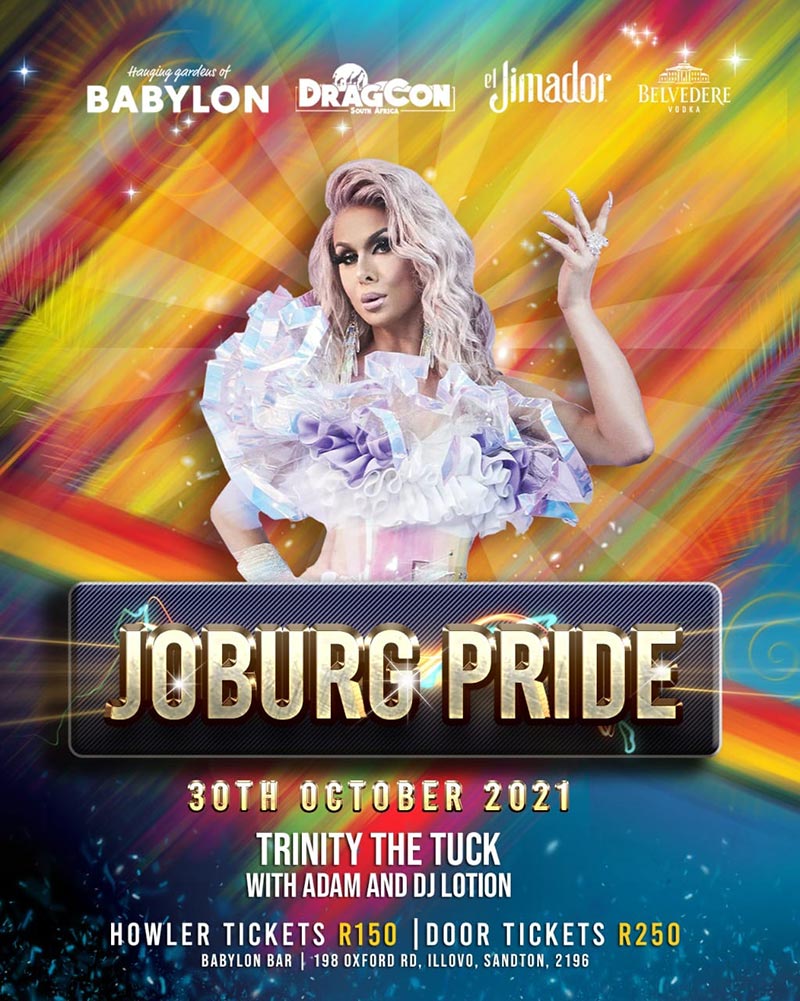 Babylon in Illovo is throwing a Pride party featuring the winner of RuPaul's Drag Race All Stars, Trinity The Tuck. With a drag show hosted by Adam and performances by DJ Lotion and music by Roberto.
Venue: Babylon the Bar, 198 Oxford Rd, Illovo, Johannesburg, 4126
Time: Sat 30 Oct, doors open at 17h00
Tickets: At the door for R250 or R150 online here
JOBURG GAY PRIDE – FOURWAYS

Brought to you by the creators of Risque, Qc, The Fireman's Ball, Babylon and Pretoria Pride, Joburg Gay Pride is a Pride celebration in Fourways. Dance to the sounds of some of Jozi's best DJs, drag artists and live performers for a 10 hour day of community play. Bring your blankets and umbrellas to enjoy food stalls, flea markets and bars. (No cooler boxes allowed).
Venue: Action Park, Cedar Square, Cedar Road, Fourways, Johannesburg
Time: Sat 30 Oct, 12h00 to 23h00
Tickets: Door, R80 or pre-Sale at R60 online here
JOHANNESBURG PRIDE @ SHAKERS – MABONENG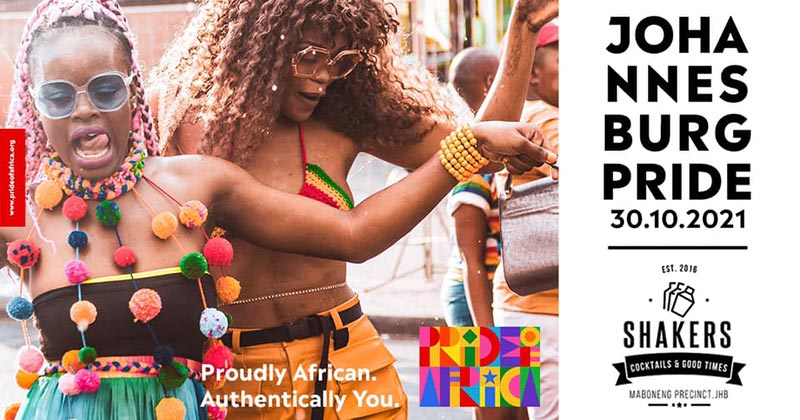 While there is no street march this year due to Covid-19, the official 32nd annual Johannesburg Pride event will have a gathering at Shakers in Maboneng for a smaller-scale meet-up. The lineup includes Ms Party, DJ Puggy, Gina Mabasa, Kxng B The Great, Fabian Jay and poet Nomfundo Khambule. If you prefer to watch from home, you can catch the event on the Johannesburg Pride YouTube channel.
Venue: Shakers Bar – 300 Commissioner Street Maboneng, 2094
Time: Sat 30 Oct, Starts at 11h30
Tickets: Free entry till 17h00
PRIDE PARTY @ AFRO BRU – MABONENG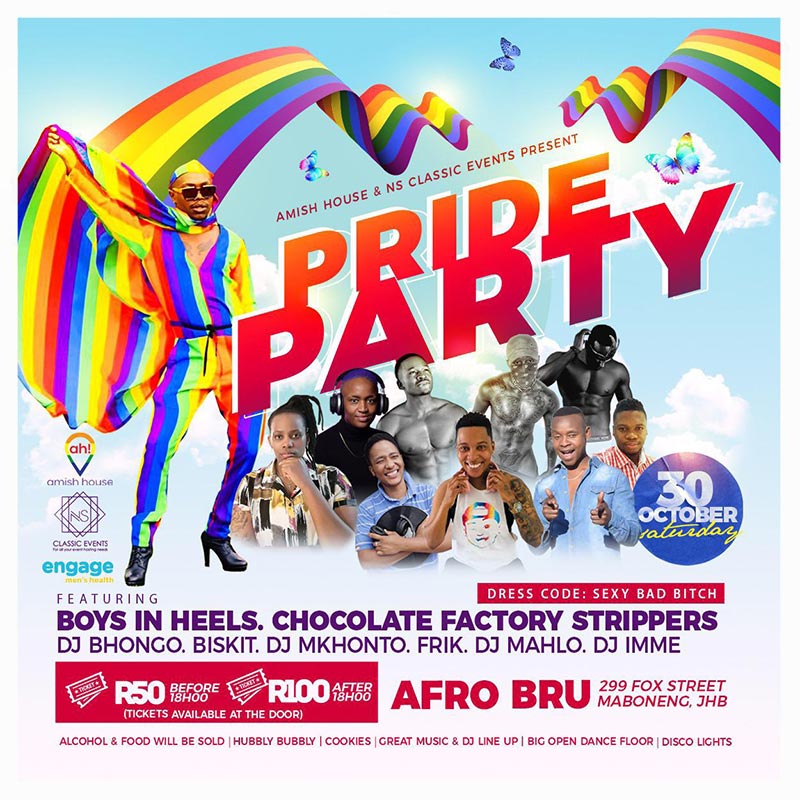 Amish House and NS Classic House Events present a Pride party at Afro Bru in Maboneng. The entertainment line-up includes Boys in Heels, DJ Biskit, The Muzikal Frik, Dj Imme, Dj Mahlo, DJ Bhongo and Mkhonto. Engage Men's Health will be there offering free HIV testing services.
Venue: Afro Bru, 299 Fox St, Jeppestown, Johannesburg, 2043
Time: Sat 30 Oct, 15h00 – late
Tickets: R50 before 18h00, R100 after – at the door
QUEER SOCIAL – MIDRAND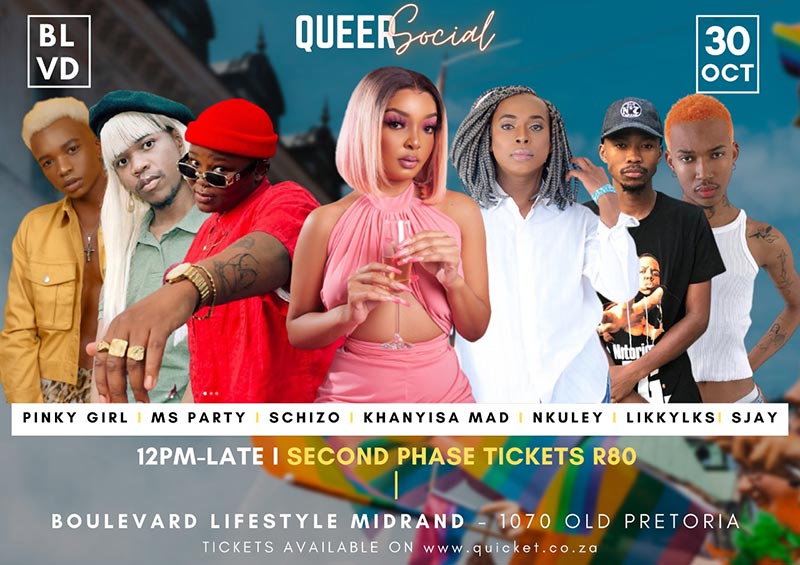 The Queer Social is a lifestyle event that celebrates members of the LGBTQIAP+ communiyy. A festival curated for queers, by queers. Join in and live boldly in colour to end Africa Pride month with a bang at Boulevard Lifestyle.
Venue: Boulevard Lifestyle, 1070 Old Pretoria Rd, Grand Central, Midrand, 1685
Time: Sat 30 Oct, 13:00 – 23:00
Tickets: From R60 can be brought here
VOGUE NIGHTS JOZI – NEW DOORNFONTEIN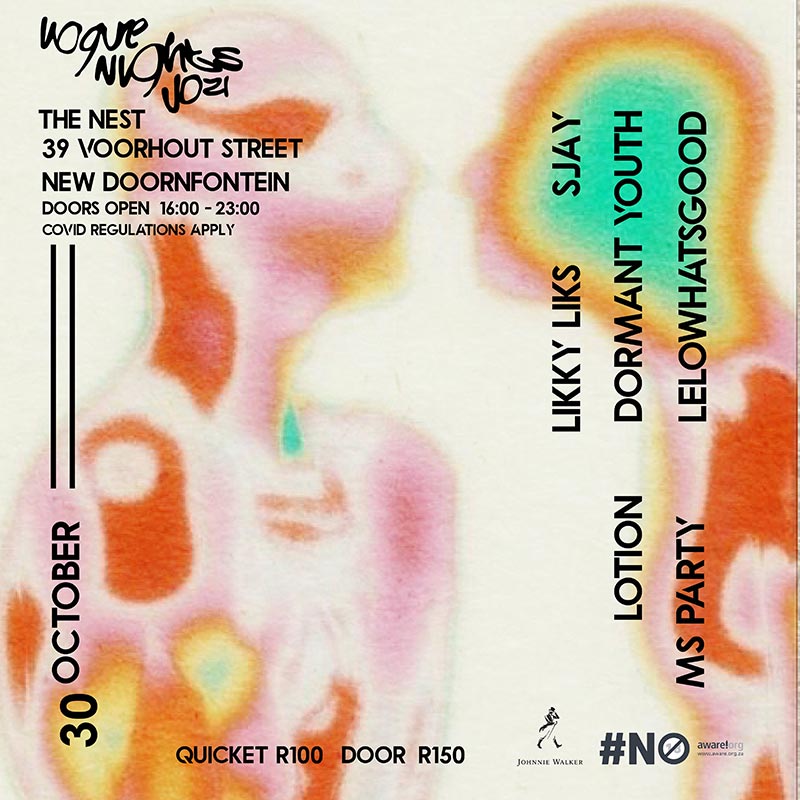 Vogue Nights Jozi returns for its annual Spring/Summer Ball to celebrate Pride Month. Get your outfits ready and prepare for the categories. DJ lineup includes Likky Liks, Dormant Youth, Sjay, Lotion, Ms Party, and Lelowhatsgood. Categories: Vogue Fem; Afro Dance [OTA]; House Category: A Night At The Met; Bizarre: Halloween Edition; Sex Siren, and; Best Dressed.
Venue: The Nest, 39 Voorhout St, New Doornfontein, Johannesburg, 2094
Time: Sat 30 Oct, 16h00 – 23h00
Tickets: From R100 here
31 OCT BONUS! PRIDE AFTERMATH PARTY @ SHAKERS – MABONENG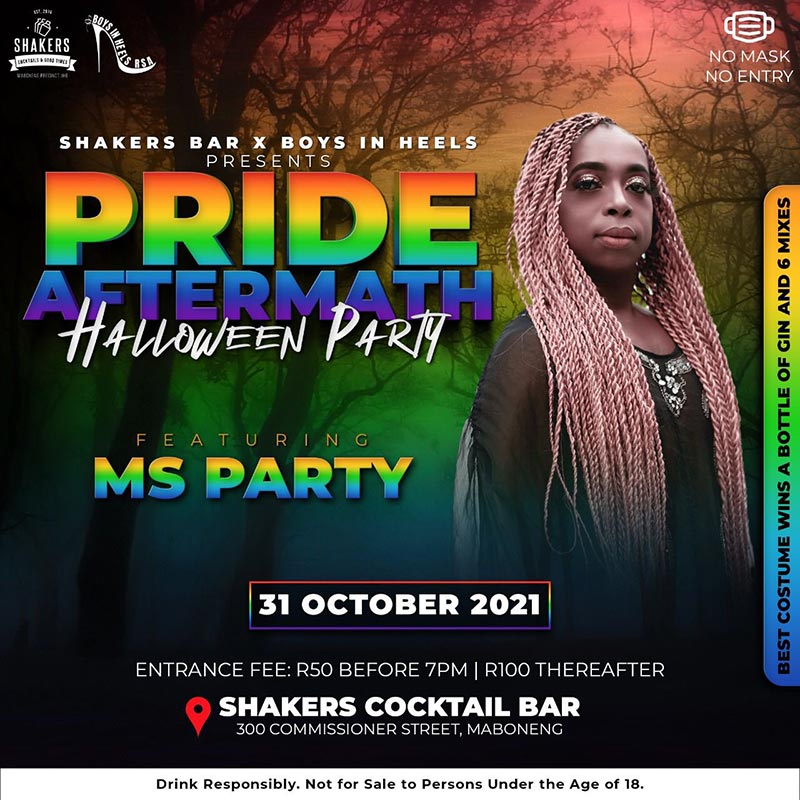 Shakers continues the Pride party weekend into Sunday, with its Pride Aftermath Halloween bash, featuring the incredible Ms Party on the decks. Best costume wins a bottle of gin and 6 mixers.
Venue: Shakers Bar – 300 Commissioner Street Maboneng, 2094
Time: Sun 31 Oct
Tickets: R50 before 19h00, R100 after
If your Pride party is not included here, send the details to info@mambaonline.com.