Nigeria: Couple on the run as 53 arrested at 'gay wedding'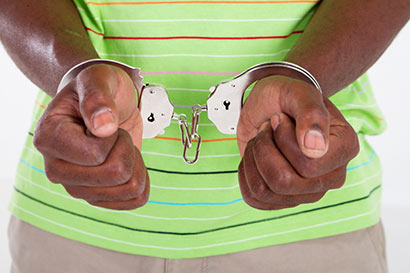 A group of 53 people have appeared in a court in Nigeria on charges of attending a 'gay wedding', while the alleged couple is said to be on the run.
According to Premium Times, the accused were arrested on April 15 in a raid on a motel in the city of Zaria, in the northern state of Kaduna.
"Information reached the police that these group of persons conspired to celebrate a gay marriage at Zaria Motel," stated Mannir Nasir, the police prosecutor. (Local sources say the event may have just been a gay party and the "wedding" claim might have been used as a pretext to justify the raid.)
Two men, alleged to be the couple and named by police as Faruk and Sanusi, managed to flee during the raid and are described as being "at large".
AP reported that the 53 individuals have been charged with "belonging to a gang of unlawful society," conspiracy and unlawful assembly.
The accused, most of whom are believed to be students, pleaded not guilty and were released on bail of N500,000 each (R21,502 / US $1,636).
Their lawyer, Yunusa Umar, complained to the magistrate that they had been illegally detained for more than 24 hours without being charged. The accused will appear in court again on May 8.
Gay sex is illegal in Nigeria, with penalties including 14 years imprisonment. Twelve northern states in Nigeria operate under Islamic Sharia law that allows homosexuality to be punished with death by stoning.
The Same-Sex Marriage (Prohibition) Act, enacted in 2014, outlaws gay marriage and any kind of same-sex relationship with 14 years' imprisonment. The law also punishes establishing, supporting, and participating in gay organisations, clubs and public displays of affection with 10 years in prison.
In March, the High Court in the town of Badagry, in the state of Lagos, used the law to issue an arrest warrant for a man accused of running a gay bar.
Human Rights Watch has reported that The Same-Sex Marriage (Prohibition) Act has led to an increase in extortion and violence against LGBT people and has also imposed restrictions on nongovernmental organisations providing essential services to LGBT people in Nigeria.