Vir.Ander – Afrikaans film to expose horror of gay conversion camps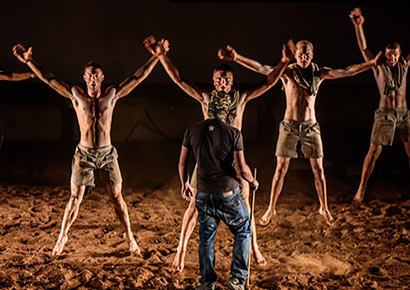 A crowdfunding campaign has been launched to bring the true stories of young gay Afrikaans men who were brutalised by 'conversion' camps to the big screen.
The film will be based on the play Vir.Ander, which premiered at the State Theatre in September. Written and directed by the Naledi award-winning Jannes Erasmus, it follows a group of boys who are sent to a conversion camp in order to become "men".
The impact of the play on audience members was so deep and visceral that producers quickly approached Erasmus to translate the production into a film.
"We saw big men crying like babies," Erasmus tells Mambaonline about the audience response to the play. "We had public apologies during our question and answer session, emotional mothers holding their boys that they have been trying to 'fix'… It was a liberating experience to see this happening every night with different people."
The hidden horror of these brutal masculinising camps was thrust into the spotlight in 2015 when two men, Alex de Koker and Michael Erasmus, who ran the Echo Wild Game Rangers Camp, were found guilty of the murder of 15-year-old Raymond Buys.
The teenager died in hospital in 2011 with brain damage, a broken arm, bruises and cigarette burns on his body after being abused in the camp, which promised parents to "turn boys" and "moffies" into "men".
Shockingly, two other boys had previously died at the camp before Buys' death, without any action being taken.
Based on the misguided belief that homosexuality or femininity in boys can be 'cured' or changed by 'toughening them up', these camps have caused untold damage to their victims.
"The effects of these camps will be a traumatising experience that will forever be part of these boys," says Erasmus. "When you come to realise that being gay is not a choice, you will also understand that this was basically a torture camp that lasted for three months."
The play and film's story is based on the real experiences of six young men who attended a conversion camp, including Erasmus' friends. "It is horrifying to see what they had to go through," he says. "Three innocent boys died because they were discarded by society and labeled as 'not-man-enough'."
Erasmus believes that the patriarchal and hyper-masculine traditions in Afrikaans culture are behind the creation of these camps and the impulse for parents to send their children there.
"A boerseun has to have a wife, four children and take over the family farm one day. These preconceived ideas don't allow individuality or anything that doesn't fit into that narrow minded 'life plan' that you apparently get when you are born," he says.
Erasmus is asking the public to contribute towards the nine million rand budget needed to make the film a reality. "We need people who are willing to contribute financially and make a film that South Africa has never seen before. It might be an untold story but it is an unspoken truth for many of us."
While Afrikaans films have had recent successes in cinemas, most have been romances or comedies. Vir.Ander is a very different beast and possibly a much harder sell to local audiences (although, perhaps having more appeal to an international audience).
"We need to make films about bullying and discrimination against average people because that is the reality that we face every day," insists Erasmus.
"We support romantic comedies because we want to escape into a superficial world that is not ours to live in. If get served only one dish every day of your life you will eventually get used to it although you might like to try something else. It's time we give people options and not restrict them to a genre of film."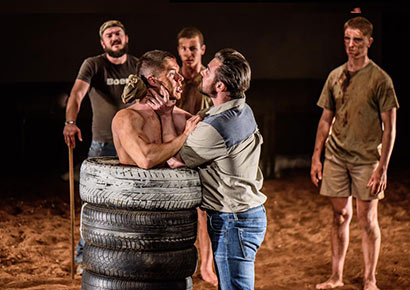 Erasmus explains that he is driven to create the film out of a real desire to make a difference, not just in telling the stories of past victims but to also help those facing stigma and abuse today.
"People don't need an actual camp to bully someone, it still happens every day at work, at school, in our homes. Physical and mental abuse is just as bad as these camps because we have more suicide cases of young people than ever before."
He adds: "In Afrikaans, the name says it all, we are not making this film for ourselves, we are making it Vir.Ander (for others) like us."
If you would like to support Vir.Ander, visit the crowdfunding page here.