Zim's President Mnangagwa slams door on same-sex marriage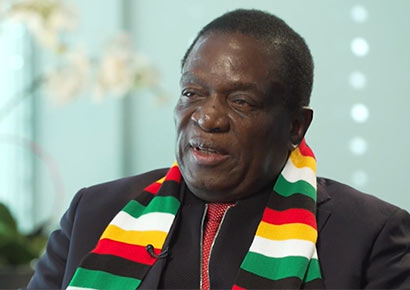 Zimbabwe's new president, Emmerson Mnangagwa, has spoken on the subject of LGBTI equality for the first time since becoming the country's leader, but has not addressed fundamental rights.
In an interview with CNN's Richard Quest, who is himself gay, at the World Economic Forum in Davos, Mnangagwa was asked about the country's constitutional ban on same-sex marriage.
"Those people who want it are the people who should canvass for it, but it's not my duty to campaign for this," he said.
Mnangagwa also told Quest that, "In our constitution it is banned – and it is my duty to obey my constitution."
There had been hopes that a new president would reverse Zimbabwe's decades-long persecution of LGBTI people, led by virulently homophobic former president, Robert Mugabe.
Chester Samba, Director of LGBTI rights group GALZ, pointed out that, "as it stands no one is advocating for same-sex marriage in Zimbabwe".
He told Mambaonline that the LGBTI community's focus at this point is on the "protection of LGBTI individuals from numerous human rights abuses". This includes the criminalisation of homosexuality and other basic forms of discrimination against LGBTI people in everyday life.
"We are working to address curtailment of fundamental rights through state action and the Mugabe era environment that allowed others to abuse the fundamental rights of the LGBTI community with impunity," said Samba.
The emphasis, he explained, is to guarantee the equal protection of sexual minorities from discrimination under the law. "Marriage thus does not become a priority nor an issue that is on our agenda yet," he said.
Samba did note that Mnangagwa's tone in discussing LGBTI rights was not as aggressive or abusive as that of Mugabe, who had stated that LGBTI people are subhuman and not deserving of any human rights at all.
"I think [Mnangagwa] hasn't completely shut the door in engaging with LGBTI or on LGBTI issues, however, he made it clear that on same sex marriage, the law is clear."
Zimbabwe's 2013 Constitution expressly bans same-sex marriage but does otherwise provide protections of civil liberties and human rights, at least in theory. Laws criminalising homosexuality, with penalties of up to three years in jail, remain on the statute books and have yet to be challenged in court as unconstitutional.