PEOPLE'S PRIDE TAKES TO HILLBROW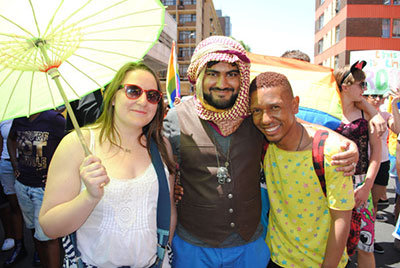 Saturday saw hundreds of LGBT people making a powerful statement as they boldly took to Johannesburg's streets for the first Joburg People's Pride.
Let by a bloody and blinded "Lady Justice" the march kicked off at Constitution Hill in Braamfontein and wound its way through Hillbrow.
The march was a lively and colourful demand for social and political equality for LGBT people; from the right to safety to equal access to health care and justice.
Despite security concerns about the area, the parade proceeded without any incidents as residents in the country's most densely populated suburbs watched on with bemusement and occasional displays of support.
The procession paused at a number of key points along the route, including Simon Nkoli Corner, Esselen Street Clinic, Cosatu House and the Joburg Civic Centre.
Speaking to the marchers in Hillbrow, Bev Ditsie, an organiser of the first Johannesburg Pride march in 1990, paid tribute to the late human rights icon Simon Nkoli, a founder of the country's first LGBT rights group GLOW.
She also addressed the recent divisions and tensions within the LGBT community surrounding the organising of Pride events.
"We are a divided people," she said. "In 1990 we were a united people with one goal. One vision. And we achieved that goal. But a divided people will fall.
"It is okay to protest AND to celebrate. I'm emotional. It's been 14 years since we marched on this street. We are back home and I hope we stay here. But, Pride belongs to all of us," she said.
The march concluded with participants silently walking through a "guard of honour" in Braamfontein, with guides holding up the names and photos of LGBT victims of hate crimes.
"These are pictures of those people who have left us. The people who've been killed and raped and assaulted just for being who they are. For being just like us," said Pride organiser Virginia Setshedi before leading the emotional marchers onwards.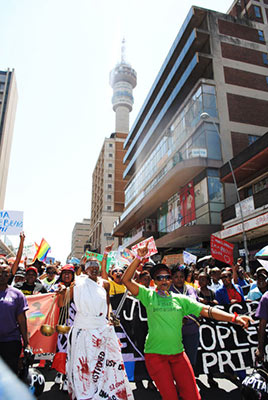 After the procession, the event continued into the afternoon at Constitution Hill with speeches and entertainment.
People's Pride was formed by a group who were disgruntled by the organising of Johannesburg Pride in recent years. They claimed that the event had become commercialised, had lost its activist roots and was failing to address the issues of the majority of LGBT people in South Africa.
"Overall it was a definite success," organiser Carrie Shelver told Mambaonline. "We were greeted by quite a lot of warmth from people. They seemed quite happy see us, and some cheered us from the flats.
"Some people found it emotionally moving to be back on the streets in Hillbrow. There's something very powerful to be on those streets when people were saying it wasn't safe and it couldn't be done. There were a lot of ingredients to the march. There was joy and there was solemnity," she said.
Shelver confirmed that there was only one safety concern during the event. A participant was assaulted after leaving Constitution Hill at the end of the day. She was returned to the venue where she was treated by medical personnel and is believed to be recovering well. Details of the incident are still unclear, said Shelver.
Saturday also saw Pretoria host its first gay Pride parade in Centurion. Another organising committee is planning to hold a Johannesburg Pride event in Sandton on 26 October after it was controversially postponed at the last minute and moved from Newtown late last month. Details have yet to be announced.
View Mambaonline's People's Pride gallery here.