Advertorial: Skin dehydration and sun damage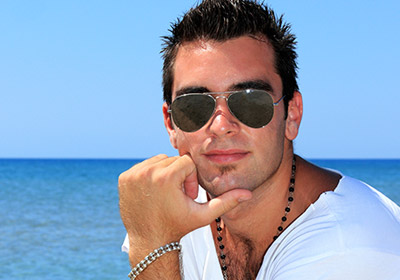 It's not fair! The holidays were too short and here we are, back at work again and it's still a beautiful summer out there, begging to be enjoyed.
As for the state of my skin, that's not something that I'd like to discuss in polite company, as I'm certain there are already new wrinkles that weren't there last year.
In spite of using sun protection at all times, my skin still seems to be severely dehydrated. It doesn't matter what I use, it still looks… well, a bit overused! But, thankfully, there is something that can be done to solve the problem…
Sun damaged skin
It doesn't really matter what your age is, (…I won't ask), but from one's thirties onwards the visible signs of ageing do make an appearance. At first, it's a brown spot here and a tiny wrinkle there, but they will multiply if not given the loving attention they need.
Photo ageing is caused by ultraviolet light exposure and tends to act more on the surface of the skin, resulting in an uneven skin tone and discolouration. Just a few minutes each day over the years can cause skin to age faster; which is why you've been advised over and over again to wear sunblock every day. Even time spent in the car going to work is enough to cause damage to unprotected skin!
With ageing and sun exposure, the outer layer of skin begins to thin and flatten, collagen production slows down and there's increased water loss from the skin, causing dehydration. The only way to improve this problem is to stimulate the skin to repair itself by producing copious amounts of collagen and elastin again, which is exactly what the various treatment options at Skin Renewal clinics aim to do.
Available treatments
Photo Dynamic Therapy™ (PDT) repairs the damaging effects of the sun's rays by using a combination of pure visible blue, red and yellow light to stimulate the deeper skin tissue: e.g. a combination of red and yellow light will treat sun damaged skin and lead to softening of lines as well as improved skin tone and smoothness.
The different lights target specific cells which then induce fibroblasts and growth factors so that skin can start repairing itself. Fibroblasts are collagen making machines; new collagen plumps up skin which leads to a smoother, younger looking appearance over a few weeks.
Dermapen™ or skin- needling treats pigmentation and 'mops up' the free radicals caused by excessive sun exposure. It's based on the skin's ability to repair itself whenever an injury is detected; thus new collagen is produced; with a firmer looking skin as a result.
Other photo rejuvenation and exfoliation treatments are also available:
The Pearl™ laser resurfaces skin in as little as one treatment; it's very effective for older skin where there is more advanced wrinkling and sun damage, but can be used with great results on younger skin, even more so because it'll keep that skin looking younger for longer.
Limelight™ laser therapy is usually performed as part of the 3D Rejuvenation treatment and it can selectively treat pigmentation. Those brown spots will darken immediately after treatment but within a week or so they'll flake off and fade.
Cosmelan™ and Dermamelan™ depigmentation treatments are also effective to treat melasma, brown spots and hyperpigmentation and are compatible with all skin types. Within a week of starting treatment, blemishes improve and start to disappear as old skin flakes off.
Trichloroacetic Acid peels (TCA) are available in different strengths and will be adjusted according to your skin's needs. Great for a quick pick-me-up at the lowest strength.
The 3D Skin Rejuvenation treatment combines some of the above treatments with other rejuvenating treatments to improve the skin's overall appearance. It's been designed to treat all three layers of the skin to ensure a superior, anti-ageing result.
Whatever your skin problem, the professionals at Skin Renewal will advise you on the best solution possible. Then it's up to you to follow their advice and regain a more youthful-looking skin. Of course, don't forget the daily sunblock!