Victory! Botswana gay group is officially registered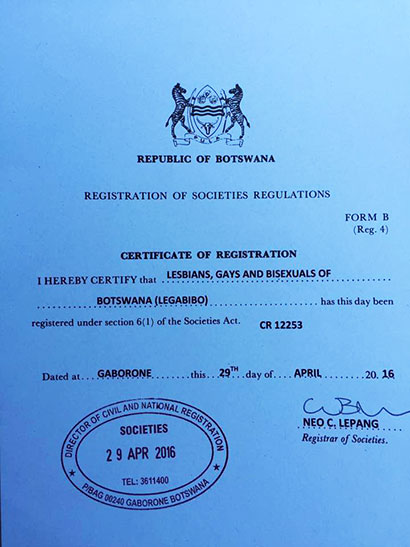 The Botswana government has finally registered the country's LGBTI rights group after a protracted four year legal battle.
On Saturday, Lesbians, Gays and Bisexuals of Botswana (LEGABIBO) confirmed that it had received a certificate of registration dated 29 April from the registrar of societies, confirming that it could operate legally in the country.
"The LGBTI community in Botswana would like to thank the Government of Botswana for recognition of an LGBTI Society,"  said the group on Facebook. "We are officially registered!"
The move follows the March 16 ruling by the Gaborone High Court of Appeal ordering the government to register the organisation. It found that the continued refusal to recognise LEGABIBO as an NGO was "unlawful".
The Botswana government was first ordered to register the organisation in a November 2014 court ruling but it appealed the decision.
LEGABIBO, which was formed in 1998, originally applied to be registered as an NGO in February 2012.
The government refused, claiming that the group could be used for an "unlawful purpose" that is "prejudicial to or incompatible with peace, welfare or good order in Botswana" and said that registering an LGBTI organisation would popularise acts criminalised in terms of the Penal Code.
While homosexuality is not specifically outlawed in Botswana, gay people could be prosecuted under Section 164 of the Penal Code that bars "carnal knowledge of any person against the order of nature," with penalties including seven years in prison.
In 2010, the government amended the employment act to ban discrimination on the basis of sexual orientation in the workplace.
A recent Afro Barometer report found that Botswana is among the most tolerant countries on the continent towards lesbians and gays. It estimated that 43 percent of Batswana would "strongly like," "somewhat like" or "not care" if they lived next to homosexuals.