No romance for lesbian couple turned away by Brakpan restaurant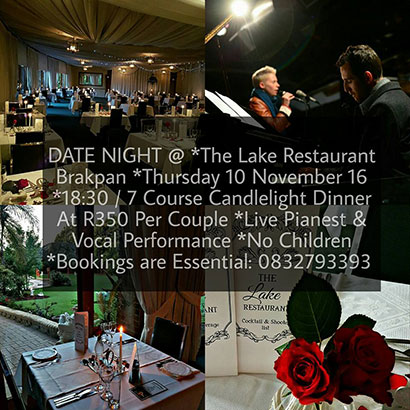 A restaurant in Ekurhuleni has been accused of discrimination against a lesbian couple, telling them that its date night events are for straight people only.
Mia Agrela and her partner hoped to enjoy the Lake Restaurant's advertised romantic 7-course candlelight dinner, complete with a pianist and singer, but soon had their plans ruined.
Agrela made a R350 payment as requested, after which she received a notification with further details about the event.
She noticed, however, that it in addition to "No T-shirts or Tekkies" it also unashamedly stated: "No Same Sex Couples."
For the Lake Restaurant, the romantic evening is the exclusive preserve of its heterosexual patrons.
Owner Sammi-Jo Amiras apparently confirmed the ban to Agrela over the phone and allegedly added that the venue would also not host same-sex weddings.
"Amiras told me that her other customers feel uncomfortable when they have same sex couples at their date night but we are welcome any other night," Agrela explained to The Brakpan Herald.
"In our conversation she also mentioned on numerous occasions that she is a Christian and that she has the Right of Admission," she said.
When the newspaper contacted the restaurant, which refunded Agrela's money, Amiras and her husband Dino denied that they discriminated against the gay community and accused her of spreading "malicious rumours".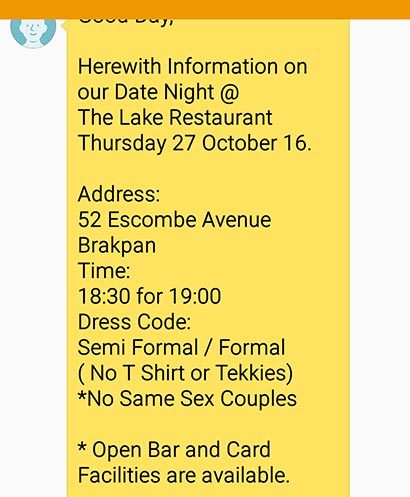 They went on to state that while "gays and lesbians are welcome to visit our establishment" any other time, their regular date night event is "specifically designed for couples of the opposite sex only". They compared this to hosting a singles night or a girls only night.
The owners continued "With regard to gay weddings, we further record that our establishment will accommodate a social event pertaining to such weddings but we underline that no church service thereof will be permitted as this will offend the majority of our patrons as it will conflict with their religious convictions."
In April 2015, the Equality Court in Cape Town ruled that owners of guesthouses cannot use their religious beliefs to turn away gay customers. The same logic should apply when it comes to any other venues serving the public.
Despite the ruling, wedding venues in particular, and now the Lake Restaurant, continue to flout the Equality Act – which prohibits the denial of services on the basis of sexual orientation – by turning away LGBT people, usually on the basis of the owners' religious beliefs.
If you have been the victim of hate speech or discrimination you can lodge a case with an Equality Court in your area. It is free and you do not need a lawyer.
Contact the nearest Magistrates' Court and ask for the Equality Court. A clerk will give you a Form 2 to complete and to lodge a complaint. For more information, visit www.justice.gov.za/EQCact/eqc_main.html.
You can also file a complaint with the SA Human Rights Commission on their website at www.sahrc.org.za.