Albert Khoza: Pushing boundaries without exception or limits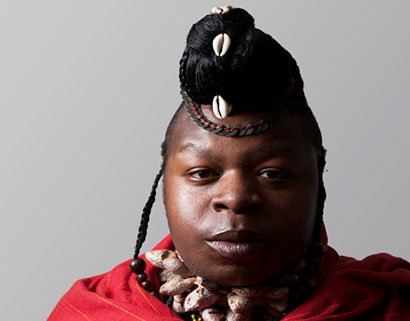 Albert Silindokuhle Ibokwe Khoza is a proudly gay, black performance artist, dancer, activist and inyanga – and a total breath of fresh air.
I recently met this 28-year-old, whose work is known for pushing buttons, and often while he performs naked. I'd read so much about him and was quite unsure of what to expect. He turns out to be a larger than life character but also warm, friendly and a little shy at the same time.
He's colourfully dressed with a ton of huge silver rings on each finger and his hair is knotted with shells. He definitely knows how to make an entrance. He's the sweetest man I've met for a very long time; quietly spoken, with a very calming air about him.
It's actually difficult to place Albert alongside the controversial works he's produced. (I suppose it's a little like meeting a comedian; you expect them to make you laugh but most are rather unhappy.) Albert is not outrageous at all, but deeply intelligent and is using his talent to shout at the world for a purpose.
His next offering will certainly do that. It premieres at the 2017 Live Art Festival, being held in Cape Town, along with 32 other new works. His work as a performer makes us think about the reality of life, traditions and boundaries and uses some very explicit vehicles to make his point.
I've promised not to reveal all the secrets of the performance, but it is going to be an eye opener. You'll leave having your very own view of the work, or as Albert calls it, the "offering". This one word explains what and why Albert does what he does.
He has no rehearsals; these offerings will never happen in the same way twice. Pushing for some more information about the performance, I ask: "How does it end?" Albert tells me that he wanted to sacrifice a chicken but the organisers in Cape Town will not allow it.
"So what now?" He replies: "No idea…."
His work is shocking and it may be hard for some people to watch as Albert purges himself of the boundaries and traditions that he feels have controlled so much of his life. It also highlights the many others around the world that have had issues growing up while being different.
His latest offering underlines both the chaos and 'hyper-normalisation' that seems to be taking over the planet, and Albert hopes to present a way out.
Albert is from Soweto and still lives there today. He recalls stories that many gay, black people whose bodies are considered overweight, can all relate to. Albert says he was lucky to have a twin sister to help with any real trouble makers.
He laughs and talks about much she has been a huge part of his life, as an influence and a protector. I have no doubt that together they are a formidable pair.
His path took him to Wits where he studied musical theatre, but he found that these studies didn't resonate with him. He calls it "white supremacy". (I've never looked at Annie or West Side Story in that way, but Albert is making me see things from a different perspective already; and we've only been chatting for a few minutes.)
He also explains that it was very hard looking for work. His size didn't help as "most choreographers don't want fat dancers," he says. So he did it himself. Mentors such as Robin Orlin and Jay Pather, helped him along his way and now Albert also works internationally, after he was introduced to a Paris agent.
"People always ask me, 'Why do you take your work out of South Africa?' Meaning that some of the work I do is very traditional and people feel ownership of these things.
"My work must be seen by as many people as possible, no matter which country that is in. If people find it shocking then that's something they must deal with," he says.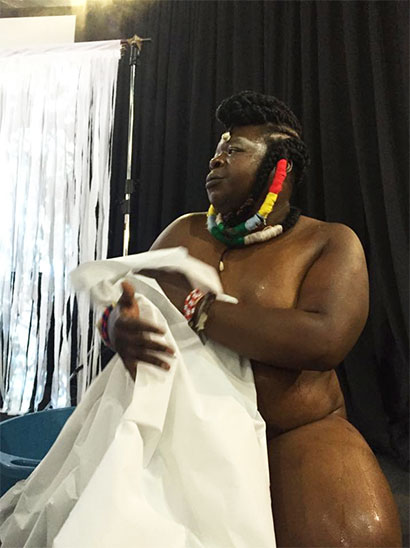 Albert, the inyanga
Albert decided that after having visions he was going to follow a different path for a while and study as an inyanga. He doesn't use the word sangoma or healer. "It's deeper than that. I spend most of my time thinking and working to help others, even if they don't realise it," he explains.
I see now why he has such a calming nature. And he oozes confidence. Not so before he went away to explore his calling. He admits that he had concerns about his sexuality; what the reaction would be and whether it would stand in the way of developing his higher 'HIM'.
He recalls being made to feel at ease by his teachers as they explained that he was not here because of his sexuality but to develop his hidden talent as a nyanga.
He's gone on to bring his diverse talents and gifts together into a unique and challenging form of performance art. Today, Albert is on his way to becoming a potent name on the global arts scene.
You can see Albert's latest offering, Take in Take out (to live is to be sick to die is to live), as part of the Live Art Festival on 26 February at the Arena Quad, Cape Town, at 8pm.