Opinion | It is time to secularise marriage in South Africa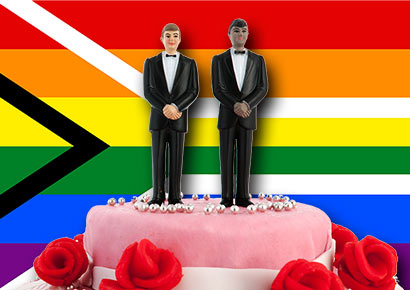 It has been 12 years since "marriage equality" was introduced to South Africa and the subject has once again been launched into the arena of debate.
On 14 November 2006, South Africa became the first country in Africa and fifth in the world to legalise same-sex marriage.
It was a highly contested process with many stakeholders resisting the move – this was particularly evident in the religious and traditional segments of South African society. Nonetheless, the Civil Union Act was passed in the National Assembly with 230-41 votes.
The recent Private Members Bill (The Civil Union Amendment Bill) submitted by COPE Member of Parliament, Deidre Carter, aims to repeal section 6 of the Civil Union Act 17 of 2006. This is the provision that allows marriage officers stationed at Home Affairs branches to refuse to constitute a civil union or marriage between persons of the same sex.
As such, an employee of the state can selectively distribute their services to "equal" members of the public where they see fit, under the guise of religion or personal belief. The result of this provision, which was negotiated to appease homophobic religious and traditional stakeholders, is that thousands of same-sex couples face further discrimination and have to travel to different cities, and provinces, to have their civil union or marriage legally ratified.
To put this into perspective, almost half (421) of the marriage officers (1,130) in the employment of the state fall under the category of exemption. This has particular implications for same-sex couples residing in rural areas with fewer Home Affairs outlets.
South Africa is a secular state
A recent video of SAPS officers harassing two gay men in KwaZulu-Natal further calls into question whether the government is doing enough to ensure that its public servants are sensitive to the diverse nature of South African society.
The proposed amendment to the Civil Union Act is therefore absolutely necessary, for the sake of the LGBTQ community, and for the sake of our state administration which is obliged to fulfil its constitutional mandate.
Imagine a scenario where a marriage officer refuses to solemnise a marriage or civil union on the basis of race, ability or nationality. There would be outrage, and rightfully so. Some of the vilest forms of discrimination have taken place on the basis of "personal belief". South Africa is a secular state, meaning that there should be a clear boundary (separation) between the state and religion.
Our Constitution enshrines tolerance, freedom and human rights, and if a state employee's beliefs clash with these ideals to the point that they cannot fulfil their duties, they have no place serving in a position that involves the necessity of serving the public without discrimination. Furthermore, what will the (legal) implications be for these public servants when the soon-to-be presented Hate Speech and Hate Crimes Bill comes into effect?
With that said, I am not implying that we should dismiss or even compel marriage officers to constitute same-sex civil unions or marriages. While my personal beliefs may differ, I too am guided by the values enshrined in our Constitution. What I am implying is that under the current legislation, every Home Affairs branch in South Africa has the explicit duty to provide the option for same-sex couples to get married or form a civil union, and so each office should be compelled to have at least one marriage officer who is willing to officiate the process.
The fact that this conversation is taking place once again draws attention to a much deeper issue regarding the secular status of the South African state apparatus. Hierarchies are inherently embedded in the complex interactions between the state and religion (as witnessed when Christian evangelist Angus Buchan recently addressed Parliament). Not only do same-sex couples have to travel to find marriage officers, they also have no option but to get married under the Civil Union Act.
It may be time to repeal the Civil Union Act
South Africa has three pieces of legislation that govern legally recognised partnerships: the Marriage Act, the Recognition of Customary Marriages Act, and the Civil Union Act. Anyone can choose to get married under the latter, but only the heterosexual privileged can get married under the first two.
The Marriage Act was passed by the white-only Parliament of 1961. Embedded in the language of religious morality, it describes marriage as a partnership between a man and a woman, and not much has changed since its inception. Even to this day, only Christian, Jewish, Muslim and Hindu members of clergy may be appointed marriage officers with the (limited) religious right to solemnise partnerships under the Marriage Act.
As such, marriages solemnised under the Marriage Act, including those by the above-mentioned religious entities, are only recognised under certain conditions (e.g. monogamy). Not only does this exclude same-sex couples from equal access, but religious groups that do not fall under the above-mentioned normative prescriptions are also affected, with particular legal implications for partners that do not fall within the parameters of state recognition.
This is not the first time this information has been brought to light. In 2006, the then Independent Democrats (ID), along with various LGBTQ groups, refused to support the Civil Union Act, citing these technicalities as unconstitutional. In 2015 Constitutional Law expert Professor Pierre de Vos further explored this issue in light of County Clerk Kim Davis' refusal to offer marriage licences to same-sex couples when it was legalised federally in the US (she was arrested for refusing to abide by the Supreme Court order).
He wrote an article titled, Same-sex marriage in South Africa: Separate but unequal in which he highlighted the notion that this was actually allowed in South Africa while challenging the constitutionality of both the Civil Union Act and its section 6 provision. At the time, only 45% of South Africans supported same-sex marriage.
In 2016, updated poll data was released by the Other Foundation, presenting attitudes towards homosexuality and gender non-conforming individuals in South Africa. The report, titled Progressive Prudes, highlights that although members of the LGBTQ community are particularly prone to become victims of violence, attitudes towards equal rights, protection and marriage equality have improved drastically.
This shift in public opinion is positive and indicative of a need for reform. The separate-but-(un)equal Civil Union Act has no place in post-apartheid South Africa, and quite frankly it should be deemed unconstitutional.
Political parties should collectively use the opportunity to rectify this issue, and instead of proposing amendments, I would go so far as to say that it is time to repeal the Civil Union Act completely.
Amending the Marriage Act to incorporate a secular framework that accommodates all sexualities, gender identities, religions and traditional customs in line with the Constitution would be the most obvious approach. The time for real Marriage Equality in South Africa has come.
James Lotter is an LGBTQ activist, MA & South African Research Chairs initiative: Gender Politics scholar in the Department of Political Science at Stellenbosch University. This article was first published by Daily Maverick.