Amazing! We're blown away by the Queen biopic trailer (Watch)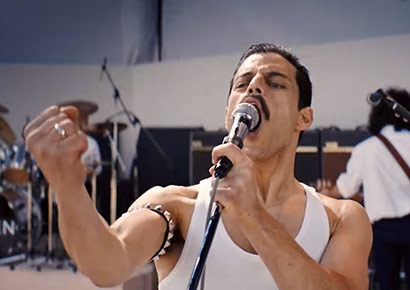 The stunning trailer for the troubled and long anticipated movie about iconic band Queen and singer Freddie Mercury is rocking the internet.
Bohemian Rhapsody: The Movie is described as "a foot-stomping celebration of Queen, their music and their extraordinary lead singer Freddie Mercury, who defied stereotypes and shattered convention to become one of the most beloved entertainers on the planet."
It is set to include the band's "near-implosion as Mercury's lifestyle spirals out of control, and their triumphant reunion on the eve of Live Aid, where Mercury, facing a life-threatening illness, leads the band in one of the greatest performances in the history of rock music."
Defying the odds, the trailer is a stirring goosebump-inducing preview that is reigniting excitement for the controversial film that has struggled to get off the ground for years. (It, of course, helps that the one-and-half minute trailer is accompanied by the electrifying anthemic hits that made Queen famous.)
Actor Sacha Baron Cohen was initially slated to play Mercury but dropped out in 2013 after claiming that the film would sanitise the more controversial and wilder aspects of the late star's life.
Egyptian-American actor Rami Malek, who starts in TV's Mr Robot, signed up to take on the role, with the film being helmed by openly gay director Bryan Singer, best known for the X-Men films.
Then, in a shock announcement in December last year, Singer left the production midway amid a flurry of rumours, including claims he had a number of on-set clashes with Malek. There were also tabloid reports that Singer was often late or failed to arrive on set after alleged late night "benders". Dexter Fletcher was hired shortly after to complete filming and post-production.
Arguably Africa's most famous LGBTQ star, Mercury, real name Farrokh Bulsara, was born in 1946 in Zanzibar, to parents of Indian origin. He went on to become the frontman for Queen and one of the great rock legends, thanks to his remarkable voice, songwriting and unique stage presence. Mercury, who has been described both as bisexual and gay, died from AIDS related pneumonia in 1991.
Bohemian Rhapsody: The Movie is set to release in South Africa on Friday 14 December. Watch the trailer below.