Will Freddie Mercury movie avoid his sexuality and HIV status?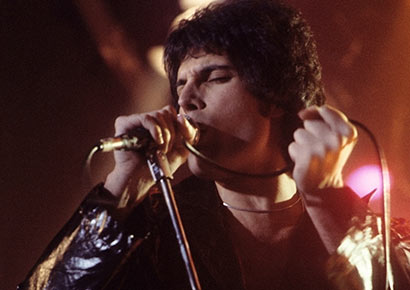 It's finally been confirmed that a film about the life of iconic LGBT rock star Freddie Mercury will start shooting soon. But will it skirt around his sexuality and death from AIDS?
Last week, Queen announced on the band's website that after years of delays and a stream of would-be directors and actors, the movie, titled Bohemian Rhapsody, "is finally happening".
It was also revealed that award winning director Bryan Singer, best known for the X-Men films, will be helming the production.
"A perfect choice to recreate the fabulous Queen years which brought us such unforgettable moments as Live Aid, which we can reveal will be faithfully recreated for a key sequence [in] the film," said Queen.
Egyptian-American actor Rami Malek, who starts in TV's Mr Robot, has signed up to take on the role of Mercury.
"Rami has great presence and he's utterly dedicated to the project," said the band's Brian May and Roger Taylor, who are serving as the film's executive music producers. "He's completely living and breathing Freddie already, which is wonderful."
There are concerns, however, that the film may sanitise the more controversial and wilder aspects of Mercury's life, and not be the warts and all biopic many are hoping for.
In March last year, actor Sacha Baron Cohen said he'd dropped out of playing Mercury in the film in 2013, because of just such concerns.
"There are amazing stories about Freddie Mercury. The guy was wild. He was living an extreme lifestyle [of] debauchery," Cohen told Howard Stern. "There are stories of little people with plates of cocaine on their heads walking around a party."
He explained that if these elements are removed, "it [becomes] a less interesting movie, but you've got to remember — and I understand it — they are a band, they want to protect their legacy as a band."
Cohen added that, "they want it to be about Queen," and that the script at the time saw Mercury's death taking place in the middle of the film. The second half then followed the surviving band members and "how the band carries on from strength to strength".
He continued: "And I said, 'Listen, not one person is going to see a movie where the lead character dies from AIDS, and then you carry on to see [what happens to the band]."
Of course, we don't know if the final script will be similar to the one described by Cohen. Also, there's hope that Singer, who is openly gay himself, will steer the film in the right direction.
There's no word yet who will play the other band members. Shooting is expected to start in and around London as soon as mid-September.
Mercury, real name Farrokh Bulsara, was born in 1946 on the East African island of Zanzibar, to parents of Indian origin. He went on to become the frontman for Queen and one of the great rock legends, thanks to his remarkable voice, songwriting and unique stage presence. Mercury, who has been described both as bisexual and gay, died from AIDS related pneumonia in 1991.