Eye Candy: Meet Top Billing's new sexy presenters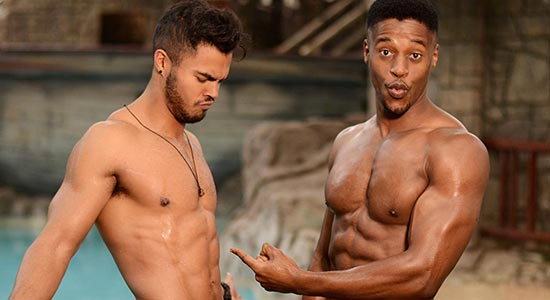 Calling all lovers of the male form; meet two of Top Billing's hot new presenters! Fezile Mkhize and Ryle De Morny were some of the winners of this year's SABC 3 Presenter Search On 3 competition. 
Find out more about these two gents, who – based on the pictures supplied by the Top Billing team – seem to quite enjoy spending their time shirtless (no, we're not complaining). See all the pics below – after the bios.
Fezile Mkhize
From Johannesburg, Fezile Mkhize is a 27-year-old medical doctor. With a passion to help people, he chose a career in medicine to have a direct positive impact on the lives of others. Convinced to audition by his girlfriend, Fezile hopes that being a TV presenter will give him a bigger platform to live out his passion. In his spare time he enjoys reading and shooting hoops at the local basketball court with his friends. "Ridiculous! That is the very first thing I thought when I knew I had made the Top 10. I'm truly honoured and immensely blessed to live the life I live so having made it this far in a competition of this magnitude is more than I could have asked for," Fezile shares. "I am really excited to engage in the challenges and really test my mettle. I could inspire another young boy or girl at home who has many dreams and doesn't think they're possible. My mission here is to live my dream and inspire people and remind them that you can do whatever you want in life especially if it's for the betterment of those around you"
Fun Fact: Fezile used to be obsessed with playing marbles and is still ready to take on any challenger who thinks may beat him.
Ryle De Morny
From Cape Town, 29-year-old Ryle de Morny is an entrepreneur, model and lifeguard. He is the title holder of "fastest man on sand", winning gold twice at the world championships for beach sprinting. With a passion for fitness, Ryle runs his own company that manufactures custom made gym equipment for athletes. He started lifesaving at the age of eight and has been performing weekend duties at local lifesaving club for the past 20 years. "It is absolutely surreal but at the same time it almost feels as if a dream is starting to materialise. A part of me has wanted this ever since the days of rushing home after school to try and watch Pabi Moloi and the rest of the KTV gang on TV as a kid," Ryle says. "This show seems to keep throwing curve balls and surprises at me which is challenging. I'm looking forward to what that next surprise might be but more so growing from this experience. I found that in the short while that I have been a part of this show I have learned more than I imagined and hope for more to come.
Fun Fact: Ryle will spearhead Team South Africa's men's sprint and flags challenge at the Lifesaving World Champions in Australia this November.