Lesbian film Rafiki smashes Kenya's box office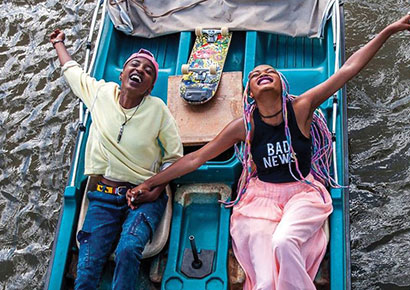 The temporarily unbanned lesbian love story Rafiki was the top film in Kenya during the week it was allowed to be screened.
The internationally acclaimed movie, which was in cinemas from 23 to 29 September in Nairobi, Mombasa and Kisumu, beat out Hollywood fare such as The Nun and Night School.
It also, just in this short time and despite only being shown to adults, became the second highest grossing Kenyan film of all time. According to reports, more than 6,500 individuals went to see the film during its limited run and people had to be turned away, despite cinemas adding additional screenings.
"Thank you so much to all of you who came out and watched the film," said Wanuri Kahiu, the film's director and co-producer, on Twitter. "Thank you for celebrating Kenyan film with us! We are so grateful."
Kahiu took the Kenya Film Classification Board (KFCB) to court after it banned the film in April, shortly before it was screened at Cannes. On 21 September, the High Court agreed to temporarily lift the ban to give Rafiki the opportunity to be selected as Kenya's official entry to the Oscars (another film, Supa Modo, was ultimately chosen).
The success of Rafiki is another blow to Ezekial Mutua, the virulently homophobic CEO of the KFCB, who claimed that there was no market for the film in Kenya.
The producers will return to court to argue for Rafiki to be unbanned permanently. "The success of the theatrical release proves that there is a strong commercial market for Rafiki in Kenya," said one of Rafiki's producers, Steven Markovitz.
"We intend to take this film to other African countries to continue to build the case that quality African films are commercially viable on our own continent. The film will be re-released in Kenya, when permanently unbanned," he added.
Rafiki has been screened at dozens of festivals around the world. It recently opened in cinemas in France and Belgium. It will be screened on 11 October as part of the Cape Town International Film Market and Festival and is expected to be officially released in South Africa next year.