Gay rugby icon Gareth Thomas accepts apology for gay bashing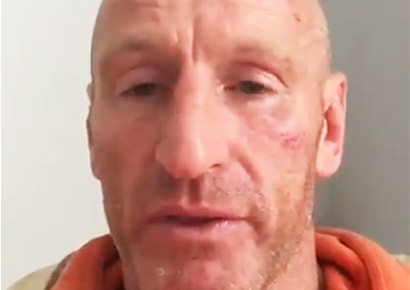 Gareth Thomas, the first openly gay international rugby player, was attacked in a homophobic hate crime over the weekend, but chose not to press charges.
The 44-year-old Welshman posted a video on Twitter on Sunday in which he is seen with cuts and scrapes on his face and head.
He revealed that he'd been bashed in the centre of the Welsh capital, Cardiff, but hoped to turn the incident into a positive learning experience for his attacker.
"This morning I've decided to make what I hope will be a positive video," said Thomas. "Last night I was the victim in my home city of a hate crime for my sexuality.
"Why I want it to be positive [is] because I want to say thank you to the police who were involved, who were very helpful and allowed me to do restorative justice with the people who did this because I though they could learn more that way than any other way," he said.
South Wales police confirmed in a statement that Thomas had been attacked by a local 16-year-old boy who "was dealt with by way of restorative justice following the incident at around 9pm."
The policed noted that, "restorative justice was at the request of Mr Thomas and accepted by the teenager who admitted assault and was apologetic for his actions."
The statement explained that, "restorative justice is about putting victim needs at the centre of the criminal justice system, finding positive solutions to crime and encouraging young people to be accountable for the consequences of their actions."
In the video, Thomas thanked the people of Cardiff "who supported me and helped me, because there are a lot of people out there who want to hurt us but unfortunately for them there are a lot more that want to help us heal. So this, I hope, will be a positive message."
Thomas – a former British Lions captain and the most capped Welsh rugby player in history – came out as gay in December 2009.
He told the Daily Mail that he had struggled to hide his sexuality for most of his life, including marrying his now ex-wife Jemma, making up stories of sexual conquests, flirting with women and becoming violent with anyone who claimed he was gay.
"I was like a ticking bomb. I thought I could suppress it, keep it locked away in some dark corner of myself, but I couldn't. It was who I was, and I just couldn't ignore it anymore," he said.
Thomas announced his retirement from rugby in late 2011. A movie about his life has been in the works for a number of years.
— Gareth Thomas (@gareththomas14) November 18, 2018