Madonna honours birthplace of LGBTQ Pride on NY Eve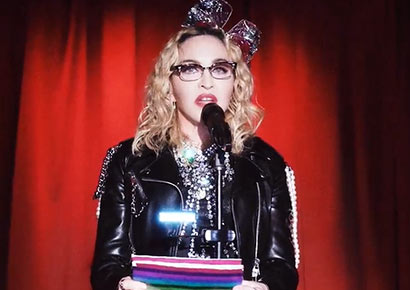 Pop queen Madonna has kicked off the 50th anniversary of the Stonewall Riots with a surprise New Year's Eve appearance.
The singer shocked revellers at the iconic Stonewall Inn in New York City's Greenwich Village when she unexpectedly appeared on stage with her 13-year-old son, David, who played the guitar.
The venue is the site of the historic 1969 uprisings, which set off the global LGBTQ human rights movement as well as sparking the first Pride events. The riots saw members of the LGBTQ community fighting back against ongoing homophobic and transphobic police raids at the tavern.
On Monday, Madonna performed her classic track Like a Prayer as well as Elvis Presley's Can't Help Falling in Love. She also delivered an impassioned speech in honour of those who paved the way for the LGBTQ community.
"I stand here proudly at the place where Pride began," she said to cheers from the crowd. "We come together tonight to celebrate 50 years of revolution, 50 years of freedom-fighting, 50 years of blood, sweat and tears, 50 years of sacrifice, 50 years of standing up to discrimination, hatred, and worst of all, indifference. And it all started here, at Stonewall.
"Let us never forget the Stonewall Riots and those who bravely stood up and said 'Enough!' Enough brutality. Enough violence inflicted on this community. Enough stigmatism. Enough oppression. Enough pain and suffering," continued Madonna.
"For years, violent and humiliating police raids were common occurrences at gay sanctuaries across the country. Discrimination and unjust treatment was beyond comprehension. No gathering place for the LGBTQ community was truly safe, and our brothers and sisters before us weren't free to celebrate like we are tonight. And we must never forget that. A half a century later, Stonewall has become a defining moment and a critical turning point in history — catapulting LGBTQ rights into public conversation and consciousness.
"I walk in the shadow of giants, of freedom fighters who have come before me, but let's be giants ourselves and carry each other on our shoulders into a new year and into a future of love and understanding," Madonna said.
New York City is hosting WorldPride in June this year to mark the 50th anniversary of Stonewall, and Madonna – who has been a longtime LGBTQ ally and activist – has been named a "Stonewall Ambassador".
In 2016, President Obama made history when he proclaimed the Stonewall Inn a national monument – the first ever LGBTQ national monument in America.
In addition to the site of the bar, the monument also includes a small adjacent park known as Christopher Park, and the surrounding streets and sidewalks. The park features a sculpture by George Segal of two same-sex couples, called Gay Liberation.
Video courtesy of Nuno Xico.