Is Elton John biopic Rocketman the next Bohemian Rhapsody?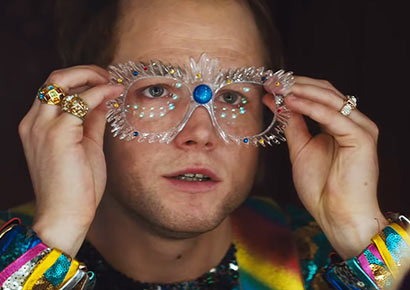 The official trailer for the Elton John film Rocketman has been released and it promises an exuberant look at the iconic singer's life.
With the massive success of the Queen and Freddie Mercury biopic Bohemian Rhapsody, the world could well be ready for a second musical drama about another LGBTQ music legend.
Rocketman stars Welsh actor and singer Taron Egerton, best known for his role as Gary "Eggsy" Unwin in the two Kingsman movies, as Sir John.
It tells the story of a prodigy at the Royal Academy of Music named Reginald Dwight and his rise to global fame as the outrageous performer with the stage name of Elton John.
Named after John's 1972 song Rocket Man, it seems like the film will highlight the darker aspects of fame, including the star's struggle with drugs.
Rocketman also features Jamie Bell as John's lyricist and longtime collaborator Bernie Taupin and Richard Madden as John Reid, the icon's former manager and one-time lover.
According to Egerton, the film will not shy away from John's sexuality and reportedly includes at least one "quite physical" sex scene with Richard Madden. "I do feel the movie we shot is absolutely a celebration of everything that Elton John is and part of that is his sexuality," he told MTV. "I actually think the gay community will be quite surprised by quite how gay it feels. I've loved every second of it."
The movie shares a very important connection with the Oscar-nominated Bohemian Rhapsody; its director. Rocketman's Dexter Fletcher stepped in to take over the troubled production of the Queen film when its director, Bryan Singer, was fired.
The film looks fantastic and Egerton is already generating award buzz with the glimpses we've seen of his performance as Elton John.
Rocketman will be released in the US and the UK in May and is scheduled for South African cinemas in June. Whether it will equal Bohemian Rhapsody's critical and box-office reception remains to be seen.