Outrage as Uganda moves to introduce death penalty for homosexuality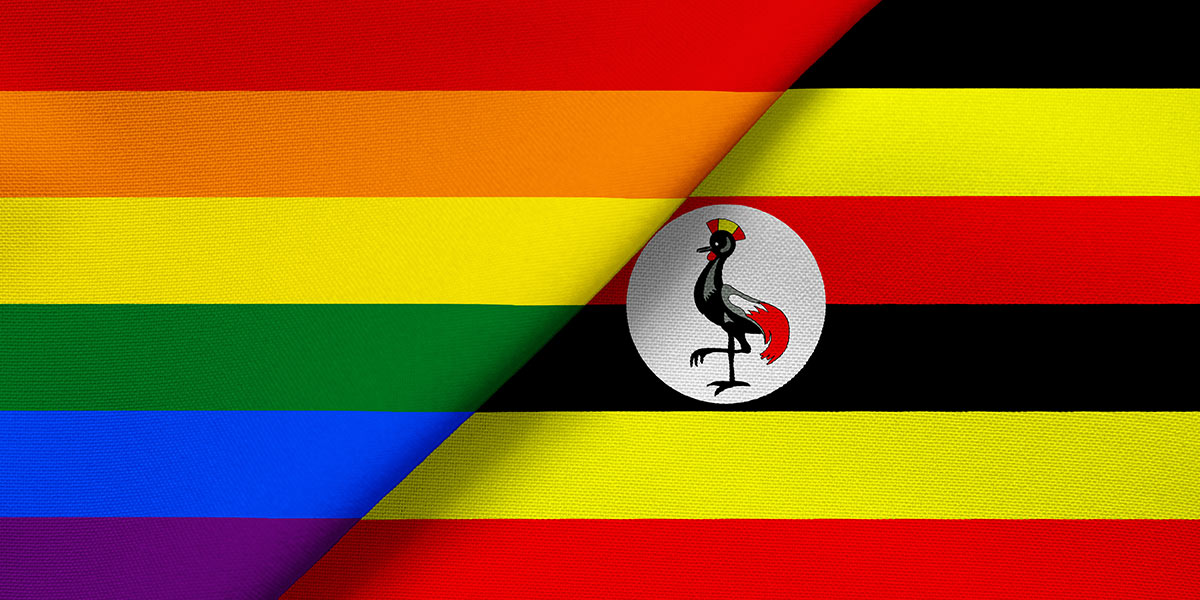 The government of Uganda has been condemned for planning to introduce a new version of its reviled Anti-Homosexuality Act that will now include the death penalty.
The move was announced by the country's notoriously homophobic Ethics and Integrity Minister, Simon Lokodo, who continues to spread dangerous lies about LGBTQ people.
"Homosexuality is not natural to Ugandans, but there has been a massive recruitment by gay people in schools, and especially among the youth, where they are promoting the falsehood that people are born like that," he told the Thomson Reuters Foundation.
"Our current penal law is limited. It only criminalises the act," he said. "We want it made clear that anyone who is even involved in promotion and recruitment has to be criminalised. Those that do grave acts will be given the death sentence."
Lokodo said that the new bill has the backing of President Yoweri Museveni and will be tabled in parliament in the coming weeks and passed before the end of the year.
According to Ilga, the death penalty for consensual same-sex sexual acts is imposed in six countries (Iran, Saudi Arabia, Yemen, Sudan, Somalia and Nigeria). There are another five (Pakistan, Afghanistan, the United Arab Emirates, Qatar and Mauritania) where this penalty remains a possibility.
Uganda's original Anti-Homosexuality Act was signed into law by President Museveni in February 2014, despite a wave of international condemnation. Later that year, however, the Constitutional Court of Uganda ruled the Act invalid on procedural grounds because not enough MPs were present when it was voted on.
Increased violence, harassment and social exclusion
Sexual Minorities Uganda (SMUG) is appalled by the latest news and noted that it comes in the wake of the brutal murder of Brian Wasswa, a young paralegal professional and activist in Jinja, a town in northern Uganda.
The organisation reported that he was hacked in the head with a gardening tool on 4 October and succumbed to his injuries the following day. Wasswa's family disowned him when they heard rumours of him being gay.
"This deplorable act of violence, fueled by fear, stigma and discrimination is the fourth in the last three months; one to a transwoman in Gomba in August, another to a gay man in Kayunga and Kampala respectively and now another gay man in Jinja," said SMUG.
Wasswa was murdered after the Minister for Security General Elly Tumwine claimed that the LGBTI community are so-called 'terrorists' on national media.
"These are really sad occurrences happening in the community. There is insecurity overall that the country is deteriorating, and as a result, more LGBTI persons are falling victim to hate crimes. We have to speak out loud and clear," said Mr Ganafa, Chairperson of SMUG.
Executive Director of SMUG, Dr Frank Mugisha said: "When politicians [and] members of parliament call for laws [and] the reintroduction of the 'anti-gay' law they are responsible for this increase in vulnerability in the LGBT community."
"While there's no sign that the Ugandan government is directly involved in these homophobic and transphobic killings, it plays a dangerous role by allowing and encouraging anti-LGBTI culture to prevail," asserted Pepe Julian Onziema, SMUG Director of Programmes. "Government has the mandate and the responsibility to protect everyone within Uganda's borders."
Mugisha added that "Despite the nullification of the Anti-Homosexuality Act in 2014, we have continued to register increased incidents of violence, harassment and social exclusion of the LGBTI community. This is all unfolding when we have less support from our international partners, development partners and national human rights organisations."
Previous colonial-era legislation criminalising gay sex remains in force in Uganda, allowing the state to punish anyone found guilty of the "offence" with life in prison.