These 70 countries still ban homosexuality in 2019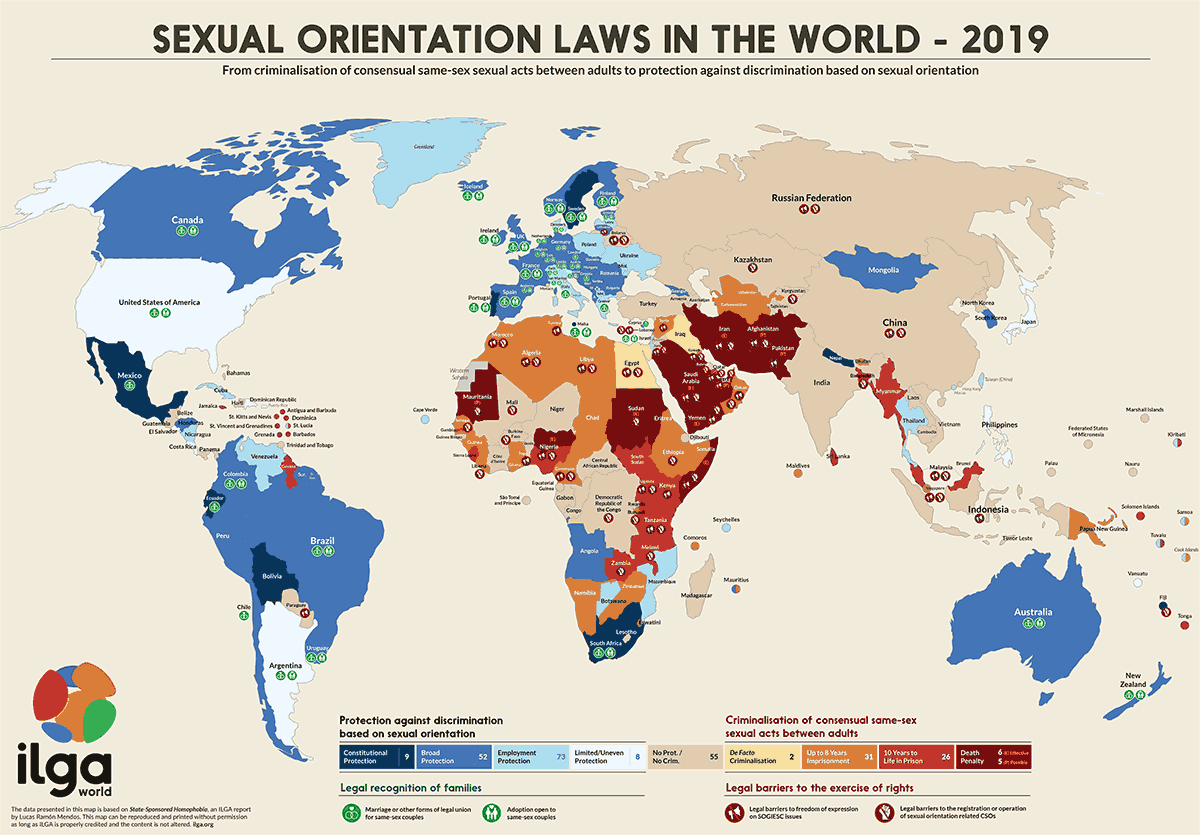 Despite a handful of countries decriminalising same-sex consensual activity in the past two years, 70 States around the world still continue to outlaw homosexuality, with punishment including the death penalty.
On Wednesday, the International Lesbian, Gay, Bisexual, Trans and Intersex Association (ILGA) launched the 13th edition of its State-Sponsored Homophobia report at its World Conference in Aotearoa, New Zealand.
Authored by Lucas Ramón Mendos, the comprehensive 535-page publication compiles data on laws that affect people on the basis of their sexual orientation and is a fundamental resource for researchers, civil society organisations, governments and the LGBTQ community.
"As of March 2019, 70 States continue to criminalise same-sex consensual activity. In 44 of these States the law is applied to people regardless of their gender," said Mendos.
He noted that there have been "landmark advances" in the last two years, with India, Trinidad and Tobago, and Angola being the latest to repeal laws criminalising homosexuality. "However, global progress comes with setbacks," Mendos said, "in 2017, Chad criminalised consensual same-sex sexual acts, a worrying example of legal regression."
At the top end of the spectrum, the report's maps highlight those places with constitutional protection against discrimination on the grounds of sexual orientation. Nine countries' constitutions, including South Africa's, now explicitly mention sexual orientation as a protected ground from discrimination.
"This shows how much change is truly happening around the world, with growing protection in all regions, though a simple look at these maps is enough to see how many States are denying rights to our communities, and of how much work still needs to be done," commented André du Plessis, Executive Director of ILGA.
Progress is slower than hoped for
On the other extreme, there are currently six UN member States that impose the death penalty on consensual same-sex sexual acts (Iran,  Nigeria, Saudi Arabia, Somalia, Sudan and Yeme), and a further five States where such a punishment is technically possible. In 26 other countries the maximum penalty can vary between 10 years to a life imprisonment.
At least 32 States have also put in place provisions that limit people's freedom of expression – including propaganda laws that prohibit the promotion of 'homosexuality' or 'non-traditional' sexual relations. ILGA also found that 41 states pose barriers to NGOs working on sexual orientation issues to be registered or run regularly – putting human rights defenders in greater danger.
On the other hand, "legislation that protects lesbian, gay and bisexual persons from discrimination and violence has expanded in recent years, even if it is at a slower pace than we hope for," said the organisation.
The number of States banning 'conversion' therapy still stands at three (Brazil, Ecuador and Malta), but there is progress also at the sub-national level where local legislatures have also prohibited such practices. Legal provisions protecting against discrimination in employment are now a reality in 38% of States.
When it comes to protecting and recognising our relationships and families, marriage equality has become a reality in four more nations in recent years (26 in total), while other 27 guarantee civil partnership recognition.
"These are not just numbers, but laws that actually impact the daily lives of people of diverse sexual orientations around the world," said Ruth Baldacchino and Helen Kennedy, Co-Secretaries General of ILGA. "Positive laws make all the difference: they can contribute to changing public attitudes, and they concretely tell people that they are equally worthy of rights."
Key statistics (as per March 2019)
• There are 123 UN member States where consensual same-sex sexual acts between adults are legal
• 70 UN member States still criminalise consensual same-sex sexual acts between adults (68 by explicit provisions of law, 2 de facto)
• The death penalty for consensual same-sex sexual acts is imposed in 6 UN member States.
• In 4 of them (Iran, Saudi Arabia, Yemen, Sudan) it is applied State-wide; in 2 (Somalia, Nigeria) it is implemented only in specific provinces. There are another 5 States (Pakistan, Afghanistan, the United Arab Emirates, Qatar and Mauritania) where such penalty remains a possibility
• 32 States have laws restricting freedom of expression on sexual orientation and gender identity issues
• 41 States pose barriers to the formation, establishment or registration of sexual orientation-related NGOs
• 73 States have laws protecting from workplace discrimination on the basis of sexual orientation
• 9 States contain constitutional provisions that specify sexual orientation in their discrimination protections
• 39 States have laws that punish acts of incitement to hatred, discrimination or violence based on sexual orientation; 42 States impose enhanced criminal penalties for offences motivated by hate towards the victim's sexual orientation
• 26 States recognise same-sex marriage; 27 States provide for some partnership recognition
• 28 States have joint adoption laws, while 30 States allow for same-sex second parent adoption
Download a high resolution version of the ILGA 2019 map here (PDF).
Download the full  State-Sponsored Homophobia report here (PDF.