Phuti Lekoloane, SA's 1st gay male footballer, takes on homophobia in sport
Phuti Lekoloane, South Africa's first (and only) openly gay male professional soccer player, has launched a desperately-needed new initiative to tackle homophobia in football.
Lekoloane, 28 – who has been the victim of anti-gay bigotry throughout his career – has created a foundation that will be organising the first LGBTI Legacy Games at the Mayibuye Sports Ground in Midrand.
The event will take place over four days between 21 and 29 March 2020 and will see men's and women's teams – consisting of LGBTIQ+ and allied players – competing in 18 matches. The first prize is R18,000.
"The event is all about ensuring that we bring awareness about the existence of LGBTIQ football athletes and fans," Lekoloane told MambaOnline. "I would also like to ensure that the community at large understands, appreciates and accepts LGBTIQ people and to minimise the victimisation of gays and lesbians."
Lekoloane says that the idea for the tournament stemmed from "my experiences as an openly gay footballer in the male-dominated field. The masculinity of men and their egos made it a little difficult for me to fit in."
In August last year, the goalkeeper revealed that he was stigmatised and discriminated against by fellow footballers in the change rooms because of his sexuality.
They started gossiping about him and two of the players and the coach asked him to use an empty changing room rather than the one shared by the rest of the men – because he is "different."
"I have never felt so much pain. I felt numb.. my mouth was dry… I felt dizzy as I walked out of that change room without saying anything to anyone… I took a taxi and I went straight home," he said at the time.
"However," Lekoloane adds, "some teams eventually warmed up and got to know me as a real person and forgot about my sexuality."
"We have nothing to celebrate as South African LGBTIQ athletes…"
Now playing for Makapanstad Romans football club, he says that homophobia is a "sensitive issue" in the football world and that "no one wants to talk about it."
"I have created this platform to give this issue more airtime and to promote acceptance and to create more LGBTIQ athlete allies. We forget that equality doesn't only mean sharing the same space but also loving and accepting one another. I believe this platform will help in creating safer spaces for the next generation of LGBTIQ athletes."
When asked if enough is being done by football clubs and the sporting authorities to tackle homophobia, Lekoloane is adamant in his response.
"No! If that was the case a lot of gay football players would be out. Look at the English Premier League and how vocal they are on issues affecting LGBTIQ footballers and fans," he says.
He also feels that local LGBTIQ groups could be doing much more in this area: "Our LGBTIQ organisations in South Africa are not empowering us as athletes and fans of the game."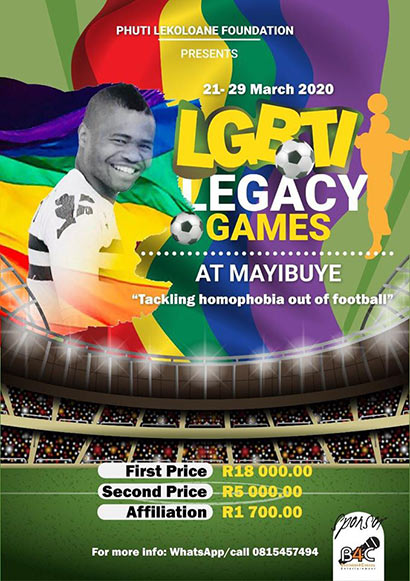 He cites, as an example, the annual rainbow laces campaign created by UK LGBT group Stonewall, which provides rainbow-coloured laces to football clubs to promote inclusivity, diversity and visibility in sports. Players wear them on the field as a visible sign of support and the initiative is said to have reached more than 12 million people.
Stonewall notes that 43% of LGBT people in the UK feel that public sporting events aren't a welcoming space for LGBT people. This figure is likely far higher in South Africa.
The rainbow laces concept has spread to other countries around the world but has yet to take off in South Africa. Despite our affirming constitution, none of the significant sporting codes in South Africa has launched any campaigns to promote LGBTIQ+ inclusion on or off the field – leaving us far behind other major sporting nations.
In November 2018, SA Rugby told MambaOnline that the Springboks would not take on the rainbow laces initiative because "There are many social issues facing South Africa" and "we cannot support them all."
"We have nothing to celebrate as South African LGBTIQ athletes," asserts Lekoloane. "We as LGBTIQ South Africans are not visible, except at events that promote the consumption of alcohol."
For more information on the LGBTI Legacy Games, call or message Phuti Lekoloane on 081 545 7494.