DA condemns Christiaan Otto's homophobia, lodges SAHRC complaint
The DA's Rainbow Network in Gauteng is outraged by homophobic and transphobic videos and comments made by Christiaan Otto on Facebook.
In a statement on Friday, City of Ekurhuleni Councillor Kade Guerreiro said that "Otto's remarks, including that homosexuality is a sin and his inference that the Covid-19 pandemic is a punishment against the "godless" LGBTIQ community are unacceptable."
Particularly reprehensible, claimed Guerreiro, is "Otto's assertion that homosexuality is a mental illness and that those who do not conform to the gender binary must suffer from mental disorders, including a description of transgender individuals as delusional."
He said that while the DA promotes the right to religious freedom and freedom of speech, "we must, in no uncertain terms, condemn the use of religious freedom as a defence against bigotry, discrimination and hate speech."
Guerreiro added: "Otto's remarks are shamelessly inflammatory and homophobic, and are particularly dangerous at a time when, in addition to the monumental battle against discrimination and social abuse, the LGBTIQ community stands with the rest of our country, as we face a distressing and uncertain battle against the Covid-19 pandemic."
Otto sparked a furore on social media this past week thanks to multiple posts and videos in which he repeatedly asserted that homosexuality and same-sex marriage are sinful. Citing passages from the Bible, he argues that gay people are incompatible with Christianity and will be among the sinners sent to hell.
In response to the DA's statement, Otto told MambaOnline: "I never said God hates gay people. I never said that it is a mental illness. I only said that the act of homosexuality is a sin; not being one – the act."
Otto, however, did indeed share posts and made comments on Facebook that state that transgender and gender non-binary people suffer from mental illness and are delusional. In another post, he also stated that homosexuality is a mental illness.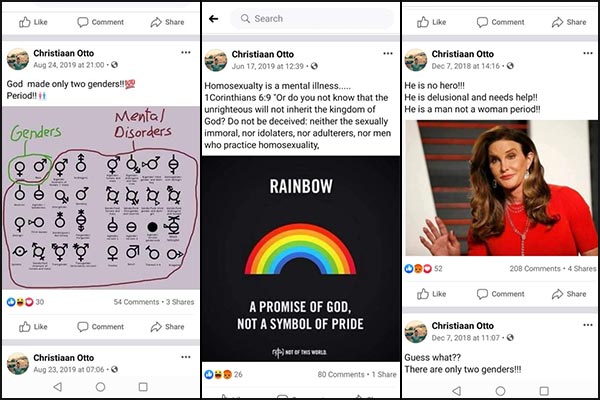 Otto called on the DA to address the abuse he claims to be receiving from members of the LGBTQ community, including death threats, a message hoping that his daughter is raped and "using my number and my name to create fake profiles." Otto earlier denied having a secret gay dating app profile and soliciting other men for sex.
Both Councillor Guerreiro and the DA Rainbow Network have reported Otto to the SA Human Rights Commission for investigation.