Thandiswa Mazwai: The Mamba Interview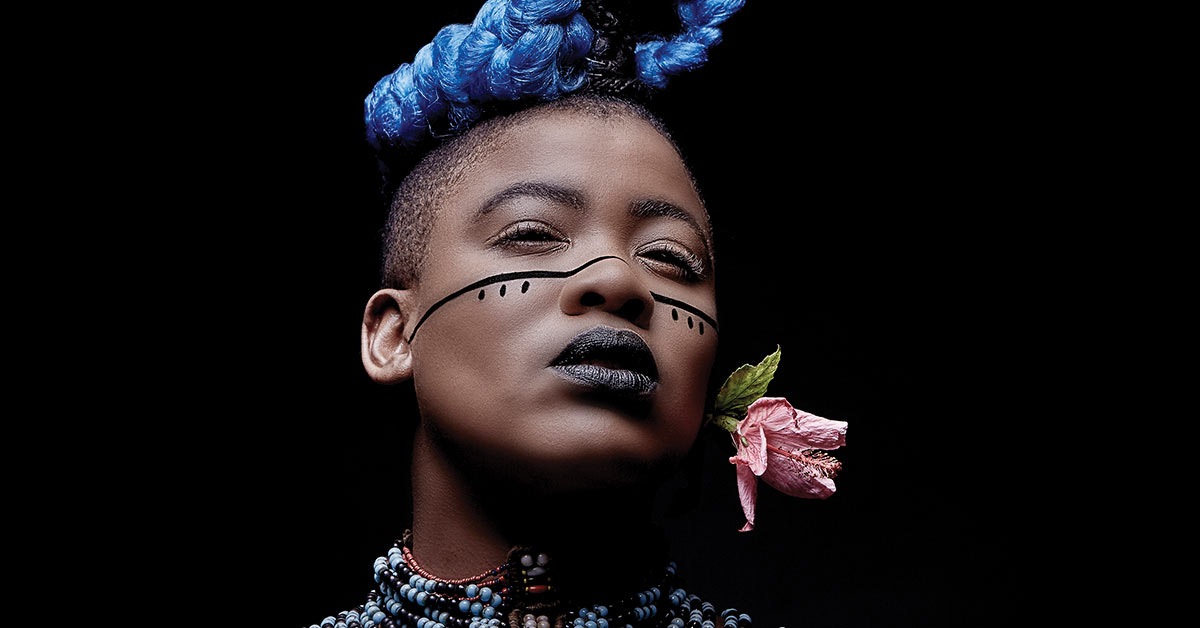 Thandiswa Mazwai is nothing less than a South African musical icon. Her culture-defining career was birthed as the voice of Bongo Maffin in the late 1990s and matured into the acclaimed multiple South African Music Award-winning solo artist of today.
From the Eastern Cape, the queer singer-songwriter has never shied away from creating music with a political and social conscience. She's performed across the globe, collaborating and singing with the likes of Meshell Ndegeocello, Hugh Masekela and Paul Simon.
Thandiswa has a daughter with fellow Bongo Maffin member and singer, producer, actor and presenter Stoan Seate. In recent months she's returned to the stage with her sold-out show A Letter to Azania. It's described as "a sonic exploration of the utopian idea of Azania while expressing the melancholy that comes with a dream deferred."
In this in-depth interview, Mamba spoke to Thandiswa not only about her music and career but also about her coming out, her first love and the "dream deferred" for LGBTIQ South Africans.
At what age did you start to recognise your queerness? Did it involve a coming out process?
Actually, my first girlfriend was when I was 14 years old. I told my mother but she didn't believe me at first. Later I was outed by the school nurse. My mother wept and wept that December of 1991. The next year in April, just after my 16th birthday, she died. We never got any closure. I had to navigate acceptance on my own.
Were you aware that you were "different" growing up?
I was always aware that I had a "different" kind of interest in people of the same gender as me and from a young age had crushes on both girls and boys. I was pretty normal, including having a lot of teenage angst about where I would fit in and feel safe in the world.
For some of us, sexuality is fluid and evolving. How would you define your sexuality right now?
I'm mostly lesbian but am attracted to varying types of people. By this, I mean that I only really imagine spending my life with women. It's been a while since I've been attracted to straight people, many years even, but the men on the show The Wife had me sweating, so who knows for sure! I'm just working on music and not at all focused on desire at the moment. I have been in a very committed, though non-monogamous relationship for 16 years, so I'm really focused on what other adventures we will have, especially now that our child is in her twenties and out of the home.
How supportive has your daughter been about your queer identity?
My daughter was seven-years-old when my partner and I met. And although we hung out together sometimes, it was a year before I told her we were partners. She was confused at first but only because the world is so heteronormative. Over time, we all adjusted to being family and, dare I say, are doing well at it by modern standards. [Laughs] It has been 15 years and my partner has been committed to my daughter since day one.
You've mentioned that when you first realised you were gay you "hated the word."
After dating my girlfriend for a year – while thinking she was just my bestest friend in the world – she told me we were gay or lesbian or homosexual. I was 14 and I had heard the word before but I had never seen one or known how to recognise one. It was the way the word was used that made me fear being associated with it as a child. I wanted to feel a part of the world, not unwanted by it. I had a very deep love for her but I almost instinctively knew we had to hide what we felt, even though it felt so natural. It felt more natural than kissing the boy I pretended to date while I actually dated Tara. I still have her cologne scented love letters to me.
So I did not want to be lesbian, I wanted to be "normal". And when I was at university – I was 19-years-old – I studied feminist literature, where we read Zami by Audre Lorde. It was the first time I had seen myself in a text. I came alive. This was the same year I met [activist and filmmaker] Bev Ditsie and had a beautiful love affair with her while we went to lesbian meetings called "Sisters Kopang" and walked many early Pride parades in the mid-90s. This is when I started to love the word. Lesbians were radical, lesbians were thinkers, lesbians were fun. Lesbians organised, lesbians wrote, lesbians fought for freedom. I was proud to be lesbian. I had found my tribe and I had begun to own what sounded like slander at first.
As a performer, your livelihood and career were no doubt impacted by the lockdowns. Are you excited about being back on stage? And do you still get nervous?
Yeah, I like the stage. It's a space of healing for me. I have missed that self-contained ability to heal. Entering the stage is like breaking a dimensional barrier. You have no idea the places I go, the feelings I get. On that stage I can shift worlds, so yeah I get nervous about what I will create. Or what will become of me. I do not look for perfection on the stage, so I don't prepare for it. That's dangerous, but I like to leave enough room for improvisation, for things that emerge on stage, live, direct from the source, uninterrupted, unrehearsed, imperfect.
Where do you feel most alive and creative, on stage or in the recording studio?
It's different things, you see. In the studio, we write and on stage, we perform. I write because I am sad. I sing because this is my mode of healing. I write because I am compelled to speak, use my voice. I sing because melody, harmony, speak a universal language. I sing because singing heals and can foster love. Not a physical love, but a love supreme, the divine love, the kind of love that can change the world. So I love and need them both for very different reasons
You are not an artist who simply creates and performs beautiful songs, you also have something to say about the world. What inspired A Letter to Azania?
I grew up during the last two decades of apartheid and my parents spoke a lot about Azania. It was going to be a place of freedom. Azania is what we would find on freedom day. Well, as we all know Azania, that utopian world of no violence and African greatness, was not found on freedom day. Instead, we inherited a dream deferred. Thirty years into our freedom, the "people" still suffer the same and even new indignities. Our brothers and sisters loot at the capital and leave us stranded in the dust. A Letter to Azania uses my music to interrogate what has become of us and to cry for the Azania I still long for.
How does it fit into your body of work?
Almost all my music has been a longing for Azania, it has been about the memory of Azania and the dream deferred. From Bongo Maffin to the album Belede there has always been a melancholy about what we had not arrived at. The "dream deferred"
In what way do you feel that the dream has been deferred for LGBTIQ South Africans?
The violence and brutal murders of queer folk without so much as a flinch from the justice system is an indictment on the entire 30 years of freedom. Freedom means nothing if we cannot feel safe in the world we live in. It is definitely overdue for the government to take gender-based violence and femicide and violence against queer people seriously. We cannot continue to be called citizens of this country only by name when the most fundamental rights eludes us: The right to life, the right to safety and protection under the law.
Freedom to express one's sexuality is something you've often referred to. (You've also performed a "fetish-themed" show.) As a society are we too repressed when it comes to sexuality? How do we break out of that?
Just be yourself. Don't harm others and demand the same rights for others as you do for yourself. Sex is natural and beautifully creative. Enjoy it with love and consent. That's about it.
When you look back at your time with Bongo Maffin… How do you feel about the era now and the massive impact you had on young people and South African culture?
It's unbelievable that it's been about twenty-five-plus years. I am very proud of the impact we were able to have and at times I am amazed at the actual scope of it. From music, fashion, ideas, hair, so much of the culture. Those were beautiful times. It reminds me of the old TKZ song We Love This Place.
You've mentioned on social media that the lockdowns took a toll on your mental health. What has helped you get through tough times when it comes to your mental health?
Thankfully I have a very strong support system. I never feel alone. But yes it's not easy. With abandonment, hate, violence and loneliness so prevalent in our LGBTIQ community as well as the creative community, it's a wonder that we not only survive but we are joyful. It is a true testament to our resilience and will to flourish.
Thandiswa Mazwai will next perform A Letter to Azania at the Durban Playhouse on 26 March at 7pm.